Curriculum
The Sixth Form at North Leamington School has a productive and energetic atmosphere. Students are encouraged to develop their independent learning skills, using their study periods effectively to review notes after each lesson, check knowledge and apply to exam style questions in subjects that are examined or with coursework. Fine Art students can work in a dedicated Sixth Form room, and those studying Photography can work in the KS4/5 room.
Students will be supported during Sixth form Induction to build scaffolding skills and given a wide range of ideas to review notes and prepare for the years ahead at NLS. This will help our students achieve their academic goals, whilst developing skills which they will use in their lives after NLS, at university, apprenticeships, or in the world of work.
As a Sixth Form team we work collaboratively with students, to ensure they pick the right subjects that suit their style of working, strengths and interests.
We offer the following subjects at A level and 2 subjects at BTEC:
CORE Faculty
Humanities Faculty
Performance Faculty
Courses run based on student choices and therefore may change due to numbers.
To help choose your options, please use the following website: https://www.informedchoices.ac.uk/
16-19 Study Requirements
Students are enrolled onto 3 (or its equivalent) Level 3 courses at the start of Y12 unless personal circumstances mean reasonable adjustments should be made. Some students choose to start on 4 for example, but usually refine this down to 3 once they have had practical experience of their choices and know what their preferences are. All students who have Level 2 needs in English and Maths are allocated time to develop the skills and knowledge needed to be successful in obtaining the requisite qualifications and the functional skills necessary for success in life. The 16-19 Tuition Fund is used to support students (primarily but not exclusively in the functional subjects of English and Maths) to access additional learning opportunities. We have a broad, inclusive and flexible curriculum offer and are delighted that we are very successful in ensuring strong support for entry to a range of students from disadvantaged and other vulnerable backgrounds – support prior to, but also during, time in the Sixth Form ensures very positive application, retention and post-18 destination rates.
The academic study is complemented by an extensive tutoring programme that offers coverage of a range of issues which prepare students for life beyond Sixth Form and school. This includes sessions on future pathways/destinations, understanding finance and funding, pastoral and wellbeing provision. Please see below for sessions taught across the school year: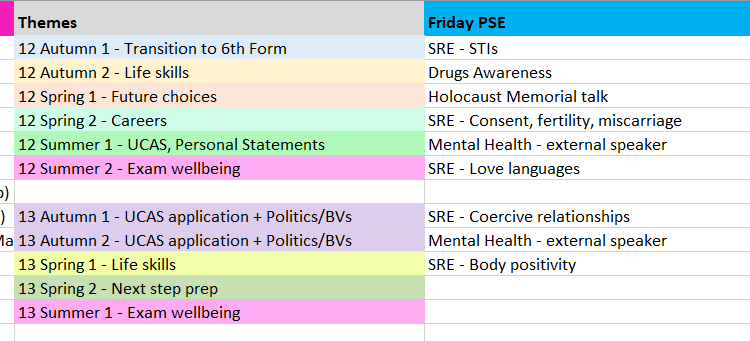 A personalised enrichment programme adds to this with a dedicated afternoon offering students the opportunity to have a range of developmental experiences: volunteering, life skills such as cookery, sports, peer mentoring, leadership, for example. On top of this, NLS Sixth Form is dedicated to an enhanced assembly programme that develops cultural capital and awareness of the world – covering diverse topics including Holocaust Memorial, Disability Awareness, SRE advice.
In the latter part of Y12, students begin a very successful process of Information, Advice and Guidance (IAG) on higher education, apprenticeships and more. This includes a week dedicated to practical work experience – even in the Covid context, a significant proportion of our students were last year able to enjoy a placement delivered online (and sometimes in person), while all students were supported in researching opportunities available to them in the future.
All of this helps to ensure very positive destinations for our students and individuals leave NLS Sixth Form with the qualifications and attributes which ensure they are all positive citizens with choices ahead of them.