Year 9 Update - Autumn 2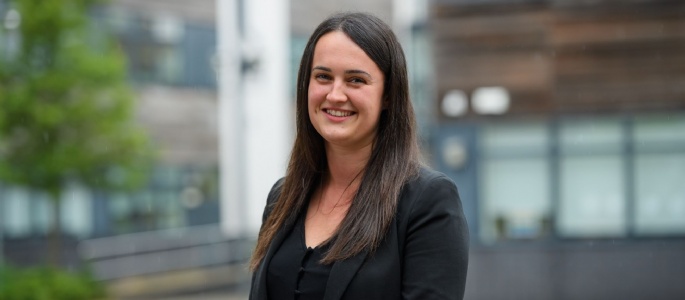 NLS Careers Fair

We were delighted to be able to host over 30 local and national education establishments and employers as part of our Careers Fair for Year 9-11 on 15th November. Each student received a booklet with brief information about each provider and were tasked with finding out a little more about them. We are very much hoping that the encounters will help them to start thinking more about what they would like to do when they leave school.
Noticeboard Competition
This term NLS launched a noticeboard competition where each of the Year 9 Tutor Groups created a noticeboard to represent their Tutor Group and College. These were fantastic, as pictured below.
Our Year 9 Marketing Leaders have judged these brilliant noticeboards. The students judged the following category:
Tutor Group Identity
Creativity
General aesthetic appeal
A massive well done to 9CT01 who were the well-deserved winners for both their College and Year Group! 9BW01 also won for their College – a huge congratulations! Lots of work went in to both of these boards and it was fantastic to see the groups working together so positively.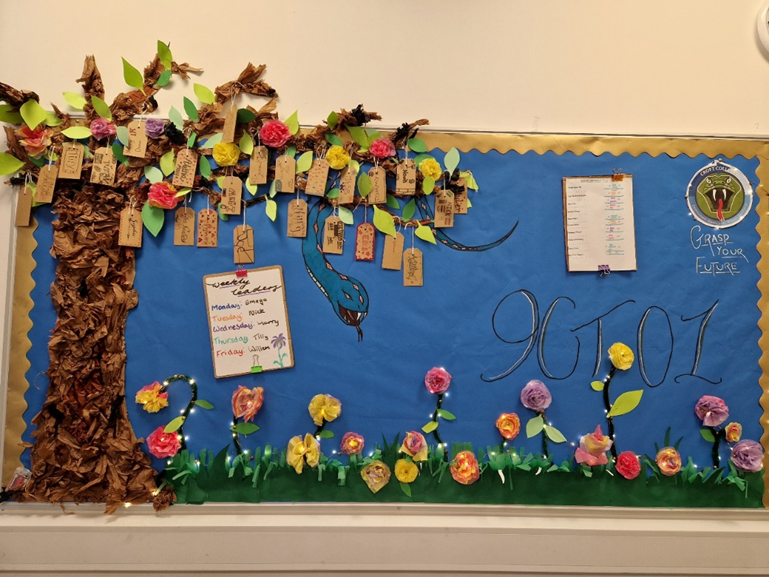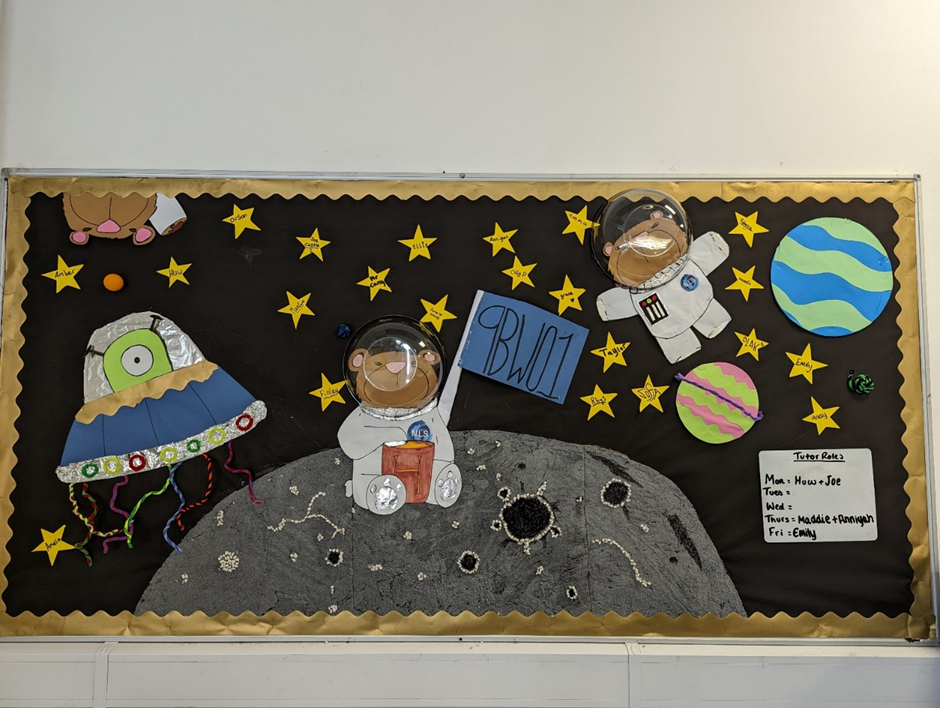 Remembrance Service
On Friday 11th November, our NLS community gathered for our annual Remembrance Service. I wanted to take this opportunity to congratulate our fantastic Charity and Community Leaders who worked hard in the week leading up to this service to sell the poppies and raise funds for the British Legion. It was also fantastic to see Martin S (9BW01) take on a key role in the service. Martin played The Last Post during the service, which marked the two minutes of silence, we were really proud of him.
Curriculum
This half term, students have focused on Prejudice and Discrimination within their Tutor Time curriculum. As part of this we celebrated Anti-Bullying week and it was wonderful to see so many Year 9s taking part in Odd Socks Day to promote tolerance and kindness. Students have also been focused on International Schools and have looked at our linked school in India as part of this.
Community Christmas Hamper Initiative
Our Year 9 Tutor Groups have taken part in the Community Christmas Hamper initiative. It was wonderful to see students considering who they felt were most in need of these hampers and how they could bring joy to members of their community. The students decided on a range of recipients which included a local care home.
Rewards and Recognition
Today, Friday 16th December, we had our termly Celebration Assembly. We celebrated the successes of our Year 9 students this term and we are really proud of those students who received certificates and prizes.
The Top 3 Reward Points were:
1st Place Andrew N
2nd Place Nadia R
3rd Place Biren H
On Tuesday 6th December the Top 50 students in Year 9 were invited to attend a cinema event to recognise their excellent attitude in lessons and Tutor Time. It was fantastic to celebrate these students and a good time was had by all!
College Fortnight
This half term saw our first College Fortnight where students enjoyed an assembly in their College and also took part in College Sports. The Year 9 results are as below:

A massive well done to the Park football and Manor netball teams!
Thank you and Merry Christmas!
Our Year 9 students have had an excellent start to their KS4 options. It has been wonderful to see their developed maturity and high expectations around their standards.
I would like to say a massive thank you to the Year 9 Tutors. They have been fully supportive of the students and have worked hard to ensure their transition to KS4 has been successful.
On behalf of the Year 9 team, I would like to wish you and your family a safe and happy Christmas break. We wish you all the best for 2023!
Miss Murphy