Year 7 Update- Autumn 2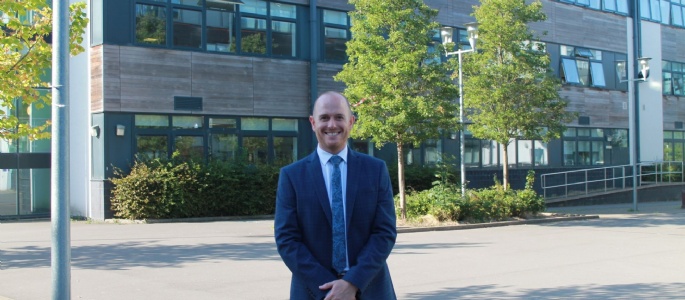 YEAR 7s HAVE MADE THEIR MARK!
What can I say? Year 7 students have had an exceptional term and are continuing to shine. They are going from strength to strength, each developing and employing the CORE ethos of the school.
As a cohort of students, they are definitely establishing themselves as a superb year group, displaying fantastic attributes on a regular basis. It is so pleasing to witness the majority of students being supportive, honest, having integrity, never giving up and most importantly, displaying enthusiasm. As a year group we have accumulated the lowest number of behavioural consequences. Proving that we are fully aware of staff expectations during lesson time and social time. This corroborates the fact that we have the highest reward points collectively as a year group. Year 7 are not only demonstrating a positive work ethic on a daily basis, they are also being proactive in ensuring they seize many of the opportunities to contribute positively during lesson time. It has been a privilege to walk around the school and witness so many year 7s participating in the plethora of extra-curricular activities NLS has on offer.
I am so very proud of the students in year 7. It is important that as their Year Leader, I am helping them to feel happy at school as well as ensuring that they have high aspirations. I have such a fantastic calibre of students within my year group who are motivated, charismatic and superb leaders. They epitomise the character and culture of the school. I can confidently say that year 7s are most certainly firmly placed on the 'NLS map'.
Antibullying Competitions
This half-term we have held a series of tutor group competitions centred around 'anti bullying. Our students were requested to create and write a poem and design a logo deterring students to bully. We had some superb entries, making it considerably difficult to choose a winner. Students were provided with some guidance following an assembly on Monday 15 November. I have to say that we have an incredibly supportive and kind year group. I feel the majority of students in year 7 have an understanding of how kindness is more important today than it has ever been. The isolation of the last year has underlined how little acts of consideration can break down barriers and brighten the lives of the people around us. I would like to share some of the entries with you:
You can clearly see how distinctive, appropriate, practical, graphic and simple in form they are.
The entries that have made it into the final were created by:
Noah Thompson and Will Keeshan.
Isabel Hurst and Katy James.
Olivia Lloyd.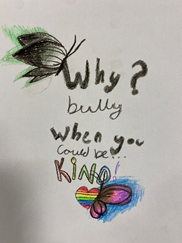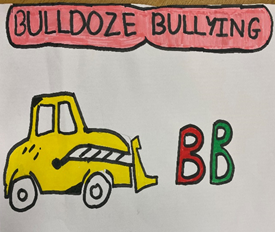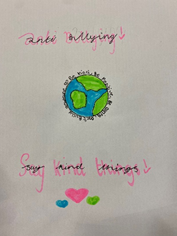 The winning design logo will be recreated by our Marketing Team and displayed on a t-shirt.
We also launched a creative writing competition, in which students could produce a song, a poem, a rap or simply a some form of text. Sebastian P had the confidence to perform his rap in a year 7 assembly in from of the entire year group as well as Ms Jones, our Deputy Head Teacher. I was bowled over by his spirit and courage. He is a credit to our year group.
The winning poem was written by 7BW02:
Bullying is not ok, it makes people want to hide away.
You may think bullying is cool, but you're acting like a real fool.
We are going to fight it together, always and forever.
So don't do it, put an end to it.
Even if you're feeling small, stand up to bullies and be kind to all.
Always think before you speak, so your words don't make others feel weak.
Don't think bullying will bring you success, being kind is real progress.
It's anti-bullying week so do a good deed, by standing together and helping those in need.
Never be afraid to report a bully, at NLS you will be supported fully.
Year 7 Eco-Leaders
I am so pleased to announce that we have now assigned a leadership role to the following year 7s. The students listed below are our Eco-Leaders. As part of their role, they will be requested to lead assemblies to promote the club and share their accomplishments and projects. They will be creating an advert to be shared across other tutor groups. This will be promoted in tutor time. They will organise specific events and activities within tutor groups to 'score points'. Each Friday the team will come together to assess their progress.
| | | |
| --- | --- | --- |
| Olly B | Mason G | Paulina S |
| Naomi Y | Matilda L | Laurence H |
| Emily O | Isaac W | Alex H |
| Ila M | Nadia K | Peggy R |
| Louis F | Bogdan B | Erika G |
| Reuben P | Kaddy K | Huxley M |
No surprise….year 7 continue to reign at the top of the year group reward points leader board
| | | |
| --- | --- | --- |
| Year group | Positive points | Negative points |
| 7 | 28609 | -244 |
I don't think we can celebrate the positive rewards, students in year 7 have achieved, without acknowledging the consequences that have also been accumulated. When reviewing the data, a significant number of these consequences are related to punctuality and home learning. Can I ask for some of you to support me in ensuring that your child leaves home with enough time to arrive to school at 8.30am.
I also wanted to take this opportunity to remind you that as parents / carers you all have access to Go4Schools. This app will allow you to view the home learning your child has received and the date it is due. If your child is struggling to complete a particular piece of work, they should have been provided with enough time to speak to their teacher in order to gain a better understanding. If they do need some additional support, our school library is open until 5pm each day (apart from Friday). Here they will have access to books, a computer but importantly a Teaching Assistant is there to help. This is a fantastic resource that will allow your child to complete their home learning in a calm and supportive learning environment.
Top 12 Students with the highest reward points
The battle for first place between Will K and Lucy M has been ongoing since the start of term. However, Will has managed to hold the title for the past 3 weeks, which is a real accomplishment. This terms top 12 students are listed below. These students been relentless in demonstrating their dedication and commitment to all aspects of school life. Well done!
| | |
| --- | --- |
| Will K | 176 |
| Lucy M | 171 |
| Amber B | 160 |
| Lilly B | 158 |
| Zac L | 158 |
| Kaddy K | 156 |
| | |
| --- | --- |
| Alexis F | 155 |
| Isaac H | 155 |
| Daniel P | 154 |
| Sophia B | 151 |
| Ben G | 151 |
| Jason N | 151 |
Attendance
I want to take this opportunity to applaud and acknowledge those 54 year 7 students that have managed to attend school each day since the beginning of term. Obviously the odds were most certainly against them considering we're in the midst of a pandemic. However, I think they deserve some recognition for either having an incredible immune system or simply being resilient and persevering. I completely understand that many of our students have had to self-isolate, however it was fantastic to witness the majority of these year 7s still accessing their lessons remotely. It has been a difficult term for some students who have been plagued by repeated illnesses. Let's hope 2022 brings us all good health and happiness.
Remembrance Day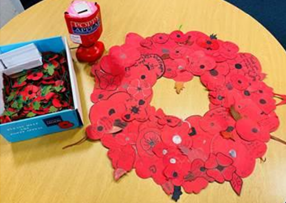 I gave all year 7 students the task of designing a poppy out of card and including a message of gratitude to all those people that have sacrificed their lives in WW1, WW2, the Falklands War, the Gulf War and conflicts in Afghanistan and Iraq. The year group produced some lovely poppies with very heartfelt messages. With all of the poppies I received, we decided to make a wreath that will be displayed by our school memorial.
Celebrating Christmas at NLS
This year our year 7 students donned their favourite and snazziest Christmas jumper in aid of Save the Children. It was fantastic to see so many year 7 students taking part for such an amazing cause. Each student contributed £1. This money will go towards supporting children in poverty ensuring they are equipped with medicine, an education and a balanced diet. The students should feel proud of themselves that they have made a difference to another child's life.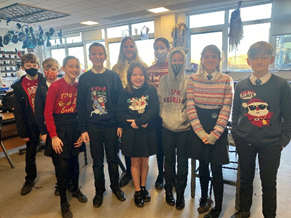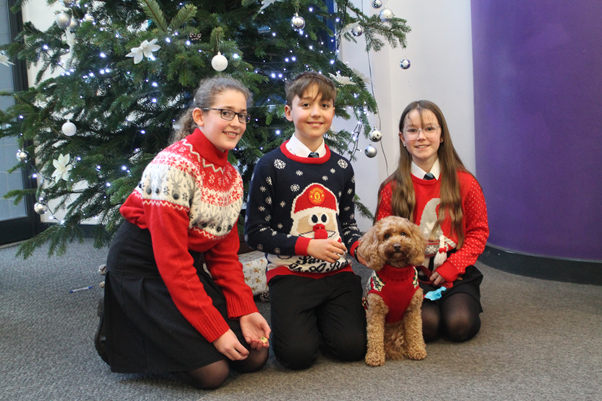 Parents' Evening
I am really excited to announce we are aiming (if at all possible) for the Year 7 parents' evening to happen face to face on school site. We are continuing to follow national guidelines on events in school, and this will be moved to a virtual event in the same time slot if we are advised to do so. In order to facilitate an on-site event the following measures will be in place:
Everyone attending the subject evening MUST wear a face covering unless medically exempt.
All visitors need to complete a lateral flow test before coming into school.
Teachers will be spread out into a variety of rooms, clustered by subject to ensure rooms are not overcrowded. In order to facilitate appointments in a variety of rooms, the system will build in travelling time for you to move from one room to another.
Social distancing measures will be in place, and hand sanitiser available throughout school.
All bookings for subject evening will be done via SchoolCloud, where you can select which subject staff you would like to have a discussion with. Appointments can be made from Thursday 6 January at 4pm and will close on Monday 17 January at 9am. I look forward to seeing you then.
Message to Parents and Carers
I just want to take this opportunity to thank you all for your support this academic term. I hope that you feel your child has been given the guidance and support to achieve, but more importantly to enjoy school life. I look forward to catching up with you all at the various school events next term. Have a fantastic Christmas and I look forward to seeing the return of your child on 5 January 2022.
Kind regards,
Mr Royle
Head of Year 7