Year 11 Update - Autumn 1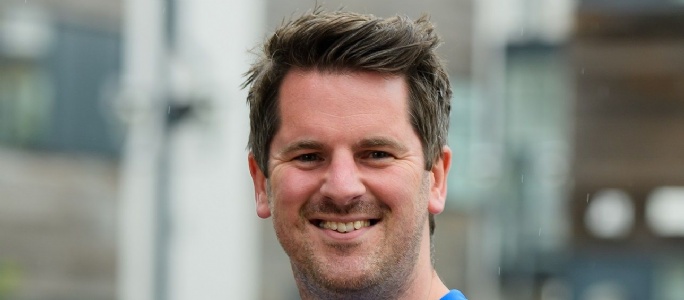 We are continually delighted with how Year 11 have progressed this half term. The year ahead will be an extremely important one for students as ultimately their efforts will enable them to build upon the progress made in the last 2 years. With the GCSE RE exam complete, student's attention turns to their other GCSE and BTEC subjects. A huge well done for completing their first core mock window this past week.
GCSE RE Results
I am really pleased with how students conducted themselves, and performed during the GCSE RE exams during the summer term of Year 10. This will hopefully provide students with a sense of achievement for their hard work in the build up to the exams, whether it be working hard in lessons, revision at home, or attending after school and/or weekend revision sessions. Please see some of the headline figures from the GCSE RE results.
37% of students achieved a grade 7 or higher
71% of students achieved a grade 5 or higher
79% of students achieved a grade 4 or higher
97% achieved a grade 1 or higher
Students can now use their experience and outcome of the GCSE RE exam to support them with their preparation for this year's GCSE exams. After analysing the results, there was a very clear correlation between attendance in school and to revision sessions, with effort and hard work, resulting in positive outcomes for students.
Tutor Time
With revision being a key feature of our tutor time curriculum in the latter stages of Year 10, revision and additional support will be available through weekly structured tutor time sessions this year through DTTR. DTTR stands for Diagnose, Therapy, Test and Review and essentially means student's' data is reviewed to ascertain where the key areas for development are and specialist teachers, in English, Maths, Science, History, Geography and German, provide bespoke support to students during tutor time. In addition to this students also receive fortnightly PSHE sessions which, this half term, have focused on 'Financial Capability' (Credit Scores, Understanding Mortgages and Consumer Rights). Information regarding theTutor Curriculum along with the Tutor Time Learning Journey can be found on our website or the following link Tutor Time Curriculum
Rewards
There remains a strong emphasis in Year 11 in achieving rewards points as a result of positive behaviour, attitude and effort in all aspects of school life, and students being competitive with other tutor groups within the year and other Colleges.
Year 11 Rewards Points – Top 20
Student Leadership
In Year 11, students have the opportunity to take on a number of leadership roles to represent their College across the whole school, working in conjunction with our Sixth Form leaders. By registering an interest and explaining why they felt they would be an excellent candidate, I am pleased to report that the following students have been appointed: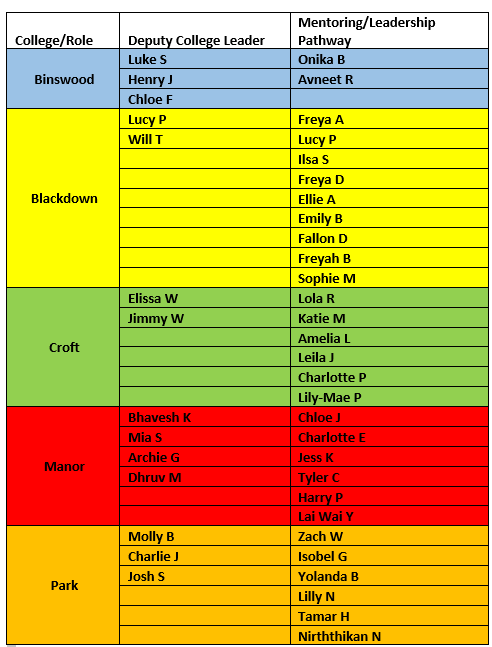 Deputy College Leaders will:
Act an advocate for their College and support students in younger year group with inter-college activities.

Work closely with Student College Leaders (Year 12) to ensure all students in their College maximise their potential.
Mentoring Leaders will:
Support students in younger year groups in tutor sessions once a week.

This could be with an academic or pastoral focus and will form part of the DTTR curriculum in term 3.
Careers – Year 11 Information, Advice and Guidance appointments
All Year 11 students have a 1:1 information, advice and guidance appointment with a qualified careers advisor. Currently we fund an external company to provide this service for our young people. All of the students who attend their appointments report that they are invaluable in supporting their post-16 choices. Appointments will continue to take place over the remainder of the term and into early January with the appointment slips issued weekly.
If you have any questions about careers appointments, or general careers guidance, please contact careers@northleamington.co.uk.
Over the next 2 half terms, there will also be further opportunities for pupils to explore their post-16 opportunities with a careers fair in school, along with mock interviews with external providers and we will provide more details nearer the time.
Race for Life 2023
On Friday 29 September the rearranged NLS Race for Life took place where Year 11 students joined the rest of the school in completing laps of our school field to raise awareness and money for Cancer Research UK. Year 11 students displayed an outstanding attitude and were excellent role models for their younger peers, with many students sporting pink clothing and face paint for the event. Whilst a £1 donation was recommended from all students, as a school, over £2000 was raised. A special mention to 11MR02 who raised £180 as well as Evelyn in 10BW01, along with her sister in Year 9, who raised £200.
Dates for the Diary
Sixth Form Open Evening – Thursday 9th November
A reminder that the Sixth Form Open Evening is taking place on Thursday 9 November from 6.00 to 8.00pm. This will be a great opportunity to find out what our Sixth Form has to offer, talk to teachers, discover our rich curriculum and gain an insight into the Sixth Form experience we offer. You can listen to the Head Teacher, Head of Sixth Form and Senior Student Leaders talks at 6.15 and 7.00pm in the theatre. Information on the curriculum can be found here.
December Mock Exams
The next round of mock exams will take place week beginning 11th December where, over a 2 week period, students will sit a mock exam in each option subject English Language and Science. More information will be shared with students, parents and carers after half term
Parents Evenings in Year 11
A reminder we have two Parent's Evenings this year, where you can come into school and speak with subject staff. These are on the following dates:
Monday 4th December 2023
Monday 18th March 2024
Your support is so important in the triangulation of success, with the student, the school and parents/carers all working together to supporting our students to achieve the desired amount of 'currency' that will take them to the next stage of preference, in their 16-18 education and training. I look forward to seeing all parents and carers at these two very important evenings.
Year 11 Prom
I can confirm that the Year 11 Prom will take place on Monday 8th July 2024, at Chesford Grange. More information will be shared with students and yourselves in due course. In a recent assembly students were informed, similar to the Alton Towers trip in Year 10, that consistent excellent attendance, behaviour and attitude throughout the year is required for students to be able to attend this celebratory event.
Message to Parents and Carers
As the first half term comes to an end, I would like to take this opportunity to thank all of you for your continued support. Like you, I want the very best for your child and working together is the key to achieving this. As we enter the colder autumn and winter months, I ask for your continued support with high standards of uniform: please ensure that your child is not wearing items such as hoodies or non-branded NLS jumpers to school because they will be asked to remove them. Student attendance and punctuality will continue to be a key focus as, along with uniform, these World Class Basics really do have an impact on student achievement.
Mr. Butler
Head of Year 11, Blackdown College Leader