Year 10 Update - Autumn 1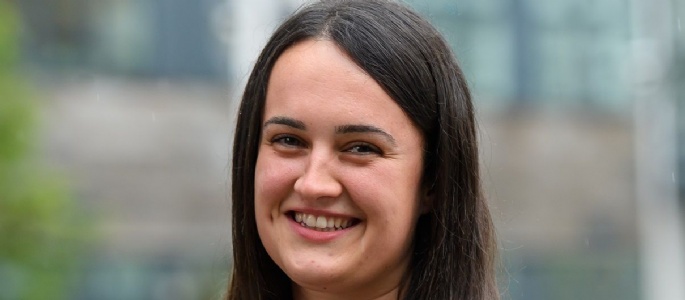 Year 10s return to school has been brilliant. The Year 10 team are really pleased that the majority of students are wearing their uniform to a high standard, have a positive attitude towards their learning and are engaged in their KS4 options, particularly their RE GCSE and BTEC options where they will be sitting mock exams this year before terminal exams in the Summer. The students have now sat their first RE mock exam and we were really pleased with their attitude during this. Students were well-prepared prior to the exam and it was fantastic to hear their positive responses on Wednesday following on from this.
Tutor Time
Tutor groups have been working hard on establishing their Year 10 vision through their noticeboards. This is both a College and a Year Group competition which is to be judged in the first week back after half term. This half term students have been Exploring British Values within the Tutor Time curriculum. This has offered them an excellent opportunity to develop their student leadership and knowledge of these areas. We have also been celebrating Black History Month where students have engaged with a range of activities and an assembly led by our Year 13 Equality & Diversity Leaders. We are really pleased to have welcomed Mrs Wright and Miss Norman to the Year 10 team as tutors.
Information regarding the Tutor Curriculum, along with the Tutor Time Learning Journey can be found on our website via the following link Tutor Time Curriculum
Student Leadership
As part of our Student Leadership provision, Year 10 students had the opportunity to apply to be Sports Leaders at the end of Year 9. The applications were of a really high standard, so a massive well done to these students for taking the initiative to apply for these roles, it shows real commitment to school life.
Our Open Evening saw a number of Year 10 students support the evening representing a variety of subject areas. We are so proud how well these students welcomed our visitors and represented North Leamington School.
College News
This half term, students had their first College assembly to welcome the new Year 7 students to their College. It was fantastic to see our College communities come together for the start of the new academic year. Next half term will see our first College fortnight, where students will spend more time in their Colleges with a range of activities including assemblies, Sports competitions and helping at a College Day for our new Year 7 students.
Attendance
Attendance continues to be a focus for the whole school so I would like to ask for your continued support in ensuring your child is in school every day and on time - we aim for all students to have at least 96% attendance. Please note that the school day starts 5 minutes earlier than previously and therefore all students should be on site and heading to their lesson at 8:40am.
Rewards and Recognition
We are really pleased that Year 10 have over 15000 reward points so far this year! A massive well done to those students in the Top 10 as below: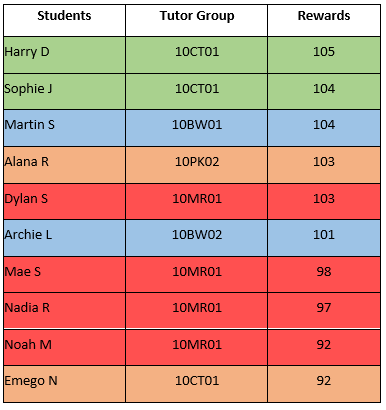 Macmillan Coffee Morning Cake Sale
On Friday 13th October, NLS held our annual Macmillan Coffee Morning supported by the Year 9 Charity Leaders. Students brought in a range of cakes/sweet treats for us to sell. Thank you so much for your support with this! We raised £429.18 which is fantastic.
Work Experience
We are delighted to launch Year 10 work experience. This is a great opportunity for students to experience the world of work.
Last year was a real success, with hundreds of local companies offering to support work experience. This culminated in many of our students being offered part time jobs, with some being offered an apprenticeship as well.
The onus on securing a placement is very much on students. So much of the learning will come from finding the placement for themselves. Our local employers are telling schools that they admire and respect students who are prepared to have a go for themselves, and that an approach directly from a student is more likely to get a placement than from the school doing it all.
Students will have an opportunity to create a CV, develop their telephone skills and build their confidence during tutor time so that they can secure their placement.
Forty local businesses have supported the school in creating the employability skills (Qualities, Standards and Skills) that they look for in order to have a productive work force where employees can thrive and be promoted.
These skills will be the focus for students during their placement:
Qualities:
Honesty: Can your employer trust you?
Confidence: Do you believe in your ability to do a good job?
Resilience: Are you able to cope when things get a bit tough?
Standards
Time keeping: Can you arrive to work on time?
Appropriate dress: Are you dressed appropriately for your work place?
On task: Can you focus on what you've been asked to do without becoming distracted?
High quality work: Are you able to complete tasks to the best of your ability?
Professional: Are you trying to do everything that is asked of you to the best of your ability?
Skills
Communication: Are you able to speak clearly and respond in an adult way?
Team work: Are you able to get on with others so that you support each other to get the best outcome?
Initiative: Do you do things that need to be done, without being asked?
The most successful student experiences were where parents encouraged and supported their child both in securing, and during, their time in the work placement – please find attached a copy of the student Work Experience Guide to support the work experience process. Of course, where students are struggling after multiple attempts we will, of course support them as best we can.
The first stage is for parents/carers to give their consent to their child undertaking work experience. Please complete the Microsoft form as soon as possible and no later than 1st December 2023 - Work Experience Form.
Thank You
Thank you to those of you that joined the Year 10 RE revision session with Mrs McGwinn (Subject Leader RE). We are also really proud of how the Year 10s conducted themselves within their first mock exam of the year and we hope that their results reflect this.
Do continue to communicate with us as we are here to support all Year 10 students I hope you have a restful half term and we look forward to seeing them on their return to school.
Mrs P Clarke
Head of Year 10, Manor College Leader