Sixth Form Update - Autumn 2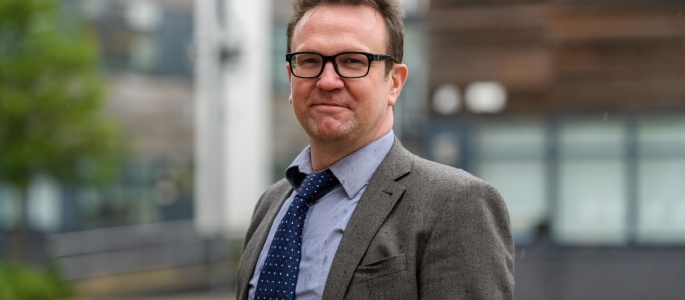 The first full term is drawing to a close and we are delighted that our Sixth Form continues to be a dynamic, thriving community. It is a community characterised by diligent, hard-working students who are dedicated to challenging themselves to achieve the best results and to securing high quality future destinations. Laudably, it is a community where there is always attention firmly on charity, community and others.
Community
We feel the latter is important throughout the year, but perhaps especially in this festive period, and students have generously taken the opportunity to be involved in a number of initiatives focused on supporting others:
Christmas Cards for Care Homes: over 200 of these have been sent to residents within the local community – they are personalised to the care home residents
Christmas Hampers: dovetailing with the main school, Year 12 and Year 13 tutor groups have collected items to support those in need
Samaritans: we have promoted the collection of new toys to be passed on to those who may well not receive any at this time.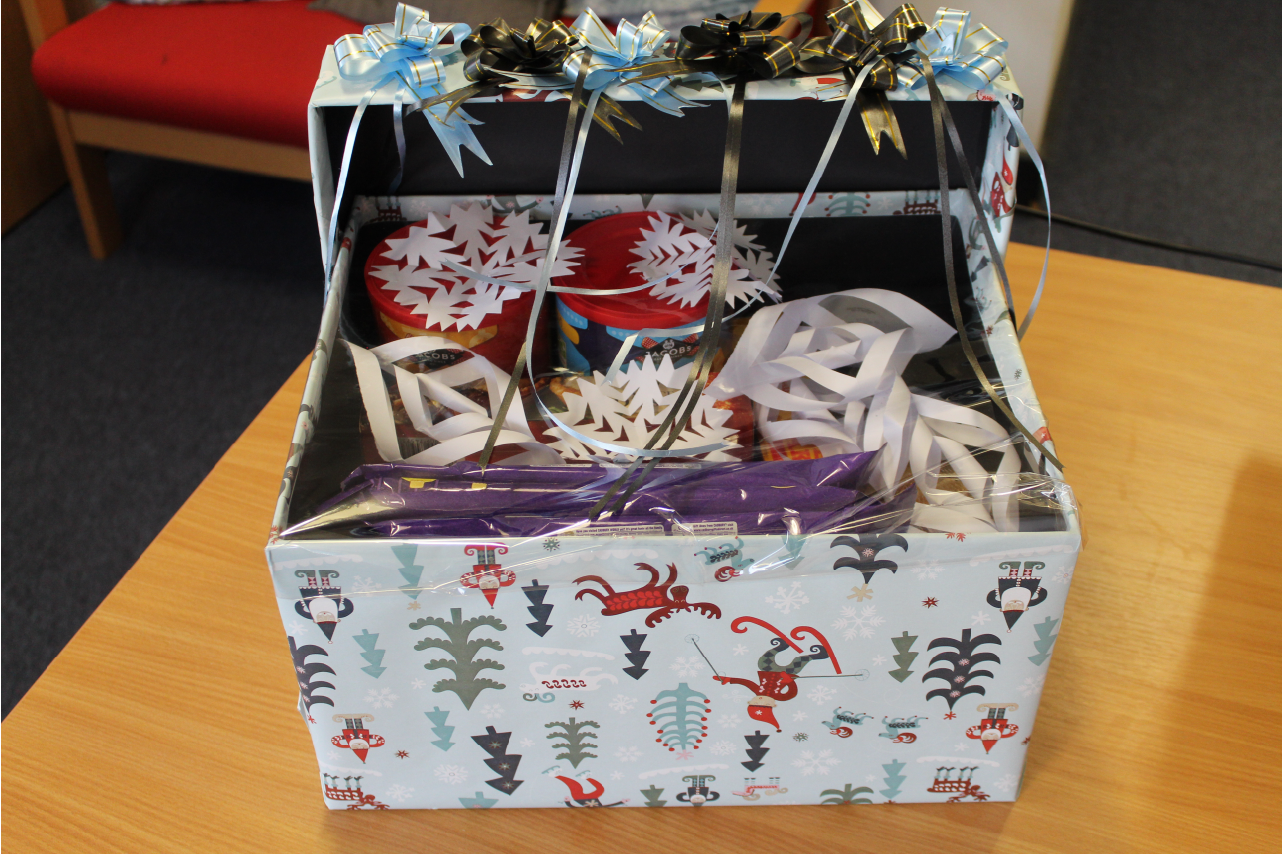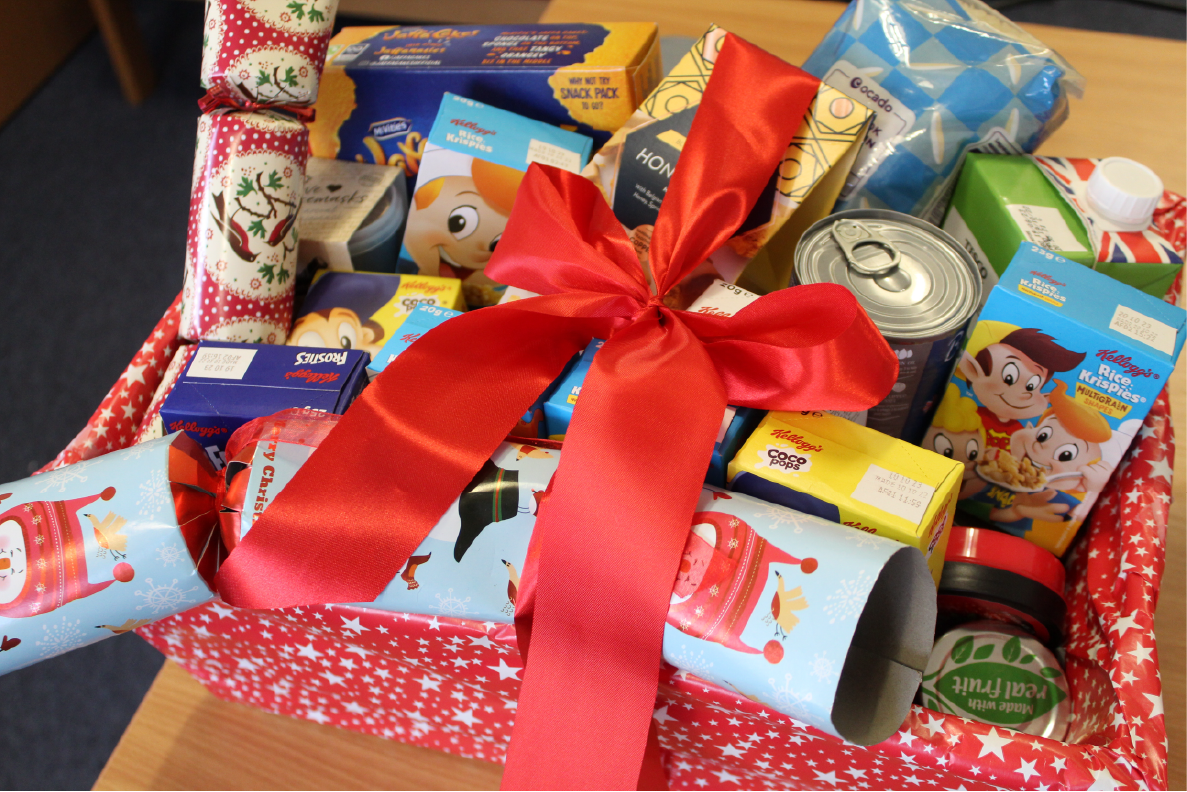 Student Views
The Sixth Form community itself is of course very important and we do what we can to ascertain student views on key issues and ensure that student leadership forms a key part of how we drive standards and make general provision. We recently undertook a Year 12 Student and Parent Voice on the transition process and share some of the outcomes with you here.
There were some clear positives in a number of areas, including the viewpoints on the Enrichment Programme and whether students feel able to recommend NLS Sixth Form to others.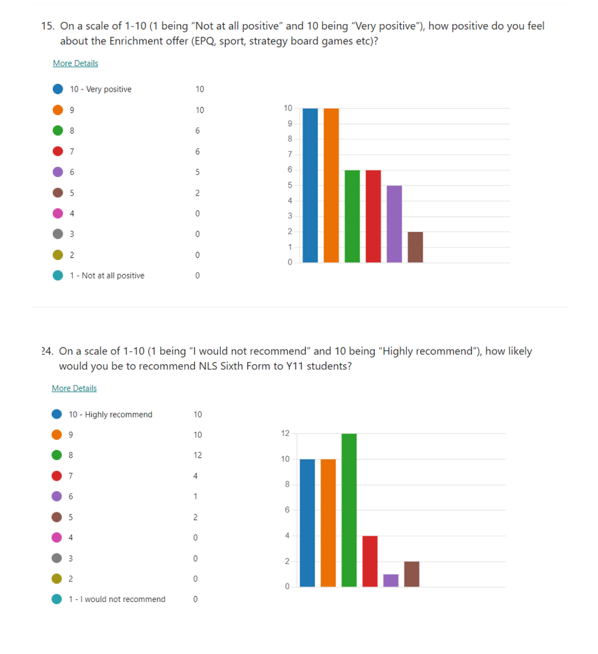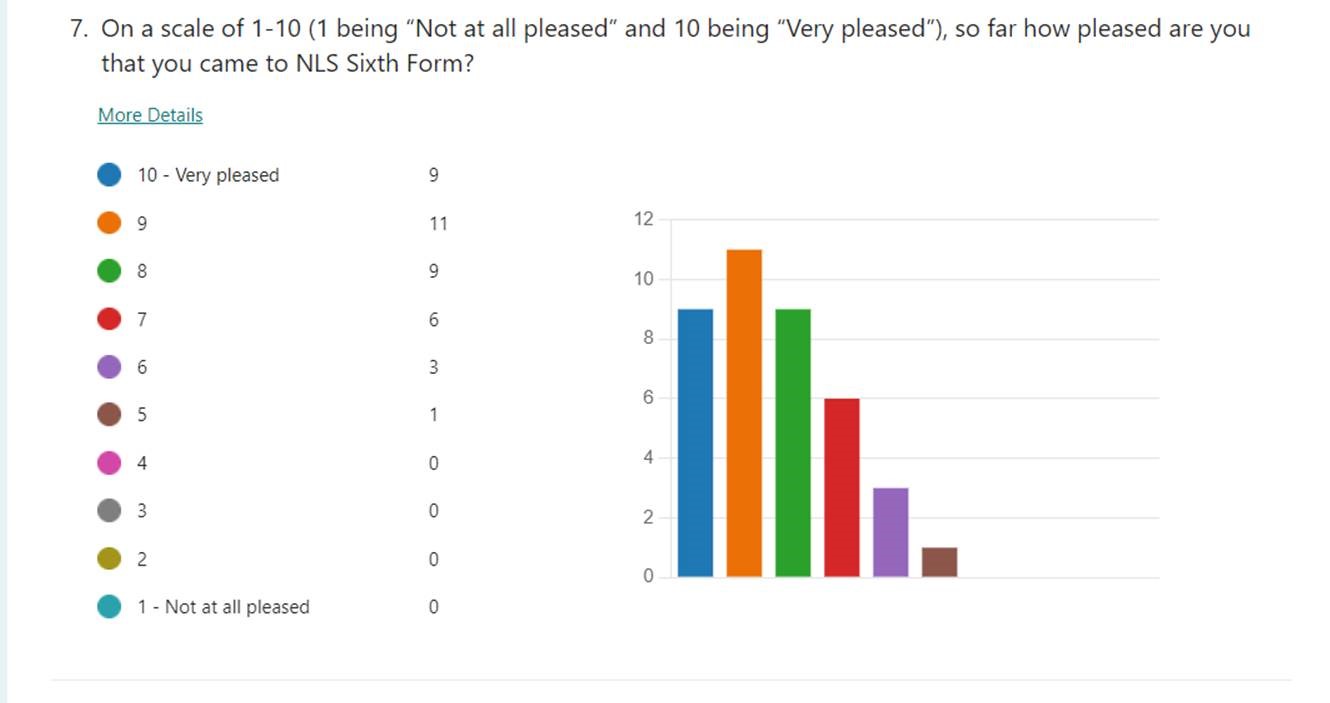 However, we recognise we cannot be complacent and are drawing upon constructive criticism around aspects of the Tutor Time curriculum to sharpen our provision moving forward.
Parent Views
The parent voice was almost universally positive. However, the return rate was rather limited compared to the students and so we have re-issued last week this to gauge a greater range of views. The feedback to date has included comments such as these:
"On the whole I'm really pleased with sixth form and the support offered".
"Both my children have loved NLS and we have a good relationship with the school".
"Nothing to add, sixth form management team are doing an excellent job".
Again, it could be tempting to take such kind comments complacently but (while we take the positives) we also recognise that there is always room to improve. Communication is key and so, as always, please do make contact with the Sixth Form Team should you have any query, whether it be your child's tutor or one of the leadership team:
sixthform@northleamington.co.uk
Jpiper@northleamington.co.uk (Year 12)
Mschofield@northleamington.co.uk (Year 13)
SThomas@northleamington.co.uk (Attendance, Study and Welfare Officer)
Of course, you are also welcome to directly contact a teacher or subject leader with any specific query or concern.
Academic Support
As you will be aware, Data 1 is now complete. All students are undertaking reflective learning processes in Tutor Time – whether on target or not, students are identifying areas and action plans for improvement. That said, we do recognise achievements and ensure celebration and recognition is part of the process. Those students who are not on target will be supported via the Sixth Form Team as well as subject areas in order to bring them on-track for success.
Please recall that we strongly urge students to undertake 6 hours of private study per subject outside of lessons. This can include homework but students should be re-visiting notes and, crucially, doing something with them – such as editing, condensing or making them visual. Additionally, students should read around their subject – the term "super-curricular" refers to a process of reading for a love of a subject and beyond the confines of the specific syllabus. This is something which the most successful students ensure is a habit.
Literacy Mentoring
It is terrific to see so many of our Year 12 being concerned for the learning of others and role-modelling to younger students. This is certainly seen in the Reading Buddies scheme which takes place on a Wednesday at Tutor Time – 26 of our terrific Year 12s are supporting students in Year 8 to improve their Reading Ages. This is Win:Win as the Year 12 benefit from the warm glow that comes with helping ensure their younger counterparts are equipped with skills and knowledge that will, in turn, support them to be the future Sixth Formers here at NLS!
Win:Win, incidentally, was the focus of our latest assembly – the programme of assemblies being unified by Stephen Covey's 7 Habits of Highly Effective People as part of our commitment to High Challenge and Deep Support.
UCAS
We are delighted that around two-thirds of students have submitted applications to UCAS now. There is a range of course choices and organisations targeted, rightly reflecting the varied interests of our cohort. If your child is yet to submit, please do actively encourage them to do so as soon as possible.
We were very grateful that so many parents and others in the local community offered their services to those targeting Oxbridge, Medicine, Dentistry and Veterinary Science – those areas where there is an earlier, October deadline for applications. In a series of mock processes, students experienced things like the type of questioning that can be expected in the upcoming season of interviewing.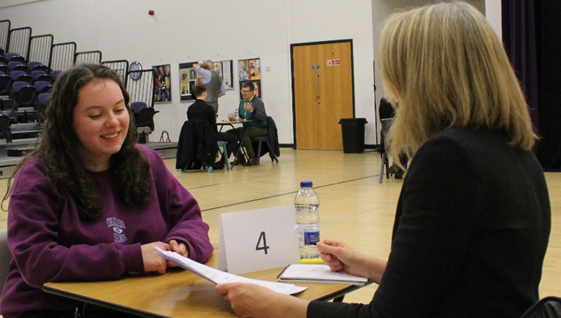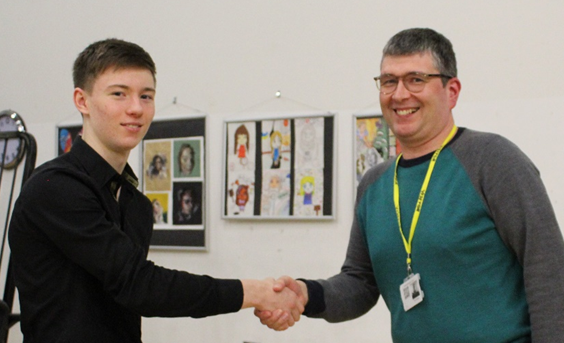 Leadership
Some of you may have been at the Sixth Form Open Evening on November 4th. We were so proud of how our Senior Student Leaders represented the school and the Sixth Form. We are also delighted to have appointed a number of Year 12 students to the College Leader posts – which are key roles in the student leadership organisation and which can form a stepping stone to the even more senior posts available in Year 13. Congratulations for the successful applications to these College Leader posts go to:
Emma, Sam, Toby, Lucy-May, Annie, Lucy, Shingai, Tom, Maya, Lily.
They join our established Senior Student and Assistant Senior Student Leadership team (ably led by Shahmeer and Isabella) including: Ellie, Jenny, Josie, Issy, Ruby, Shruti, Rowan, Ava, Eleanor and Grace.
As said previously, all of the above is hopefully testimony to our dedication to the school's CORE values and those associated principles (Safe, Happy, Confident, Successful and High Challenge, Deep Support) which we embrace in the Sixth Form.
Sixth Form Applications
Finally, it is at this time of year that applications to join our Sixth Form for September 2023 are open and for those who may have children looking to join we welcome their application and the form can be accessed here - Sixth Form Application Form. A reminder the closing date is 20 January 2023.
We wish you and your families an enjoyable festive period and look forward to all the many positives 2023 will offer.
Mr Steve Taylor
Assistant Headteacher, Head of Sixth Form