PE Update Autumn 1 2022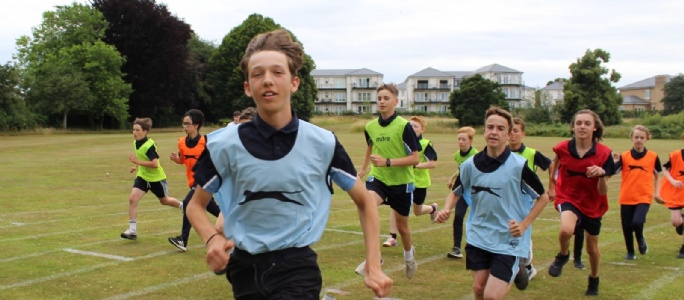 Welcome to the first NLS PE parent bulletin of the 2022-23 academic year. We would like to start by saying just how fantastic it has been to once again see a buzzing PE department. It has been great to see large numbers of students participating in a range of extra-curricular clubs and fixtures so far this academic year.
Upcoming Curriculum KS3
The Year 7 cohort will finish completing their baseline activities during the last week of this half term. This has included viewing the students participate in a wide range of activities from football to touch rugby, gymnastics to endurance running. Baseline is a process all Year 7 students go through during their early days at North Leamington School to allow the students to be set into ability groups. Students will be informed of their groups during the final week of term; this will involve some students departing 7X1 or 7Y1 and moving into 7X2 or 7Y2, or vice versa. Students will stay in these sets for the remainder of the academic year, barring exceptional circumstances. Staff retain the right to move students between groups should it be necessary at a later date. Grouping the students by ability allows all students to access lessons, creating a more level competitive playing field for all.
NLS School Rugby
All boys in Years 7, 8 and 9 will undergo a block of rugby following the half-term break, commencing the first week back.
Students in 7XB1, 7YB1, 8XB1, 8YB2, 9XB1 and 9YB1 will have rugby during their first games lesson each week.
Students in 7XB2, 7YB2, 8XB2 and 8YB2 will have rugby during their second games lesson each week.
On the day your child has rugby it is vitally important that they come prepared. All rugby will take place on the playing fields, meaning kit is likely to get wet and muddy. The climate usually tends to worsen after the half term break also, with rain during lessons likely and the temperature dropping. Students should bring their full NLS PE kit, including socks. Students may choose to wear their long sleeved zip tops or rugby shirts and NLS bottoms. Students may also wear additional layers underneath their PE kit such as baselayers and skins for additional comfort and warmth. Studded boots (either football or rugby) are highly recommended, alongside a gum shield. Both items are advisory and are there to support your child with participating safety during contact rugby. As the playing surface deteriorates and kit becomes muddy during lesson, it is recommended that your child has a separate bag (additional to their school bag) for kit and boots to go in. We also recommend students brings a towel. We have showers which are accessible to students so that they may wash mud off arms and legs before heading to their next lesson.
For any queries, please contact your child's respective member of PE staff.
Illness or Injury Protocols
It is an expectation at North Leamington School that students participate in every games lesson. If students are suffering with an illness or recovering from injury, they are still expected to play a role in the lesson. This could be coaching other students, officiating, managing, or any number of non-physical tasks. Students who are either injured or ill are expected to bring a written note from home excusing their participation and are also expected to bring kit and change. By changing it allows the students to more easily access the lesson, whilst keeping their school uniform clean and dry should their group be undertaking an outdoors activity and the weather poor. If it is physically impossible to change due to a casted injury, in this case the student will be excused from changing however, will still have a role to play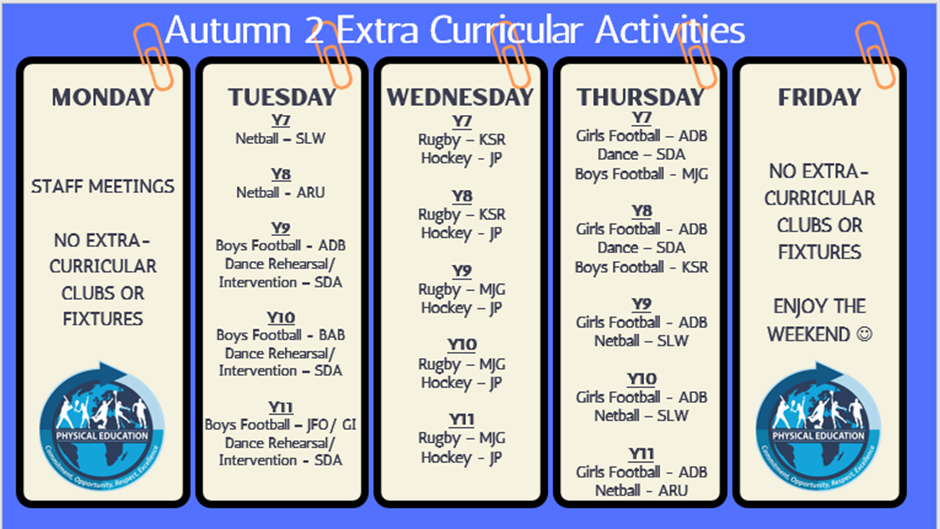 Cross Country Event - Saturday 5 November
We have an upcoming cross-country event on Saturday 5th November at Stratford. This is open for anyone to attend who is a keen runner and no previous experience is required. If your child is interested in representing NLS at this cross-country event, please can they collect a letter from outside the PE office or speak to a member of the PE team.
KS4 Volleyball
Ms Nastalek and the Science department are excited to announce the launch of a brand new volley ball club available to KS4 and KS5 students. This club will be on a Wednesday after school. No previous volley ball experience is required, if you want to try something new or are currently a keen volleyball player – this club is for everyone! If you would like to attend, please remember to bring your games kit and sign in at the top of PE before getting changed.
We look forward to seeing you!
Extra-curricular Clubs – Autumn 1 (Half-term teacher reports)
Miss Usen & Miss Watkins – Netball
Netball club has seen over 60 students attend since the start of September. Year 11 have played in a tournament against the local schools in the area and performed exceptionally well. We have also had numerous fixtures across all year groups and all teams have shown great respect, sportsmanship and teamwork skills whilst demonstrating their skills. A special thank you our sixth form student helpers Emma Richardson and Harriet Green for their help with the running of netball club and support with tournaments. There are plenty more fixtures in the diary for Year 7, Year 8, Year 9 and Year 10 so keep up the hard work in training.
Miss Watkins – Cross Country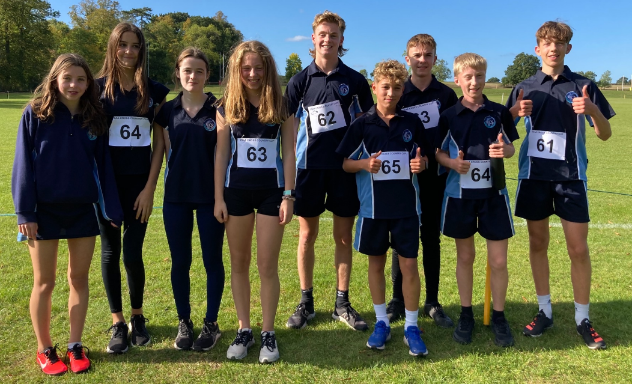 On Monday 10th October an intermediate boys and intermediate girls cross country team were entered into the Schools County Cross Country Cup at Princethorpe College where the boys finished in 3rd place and the girls finished in 4th place. All students ran a fantastic race and should be incredibly proud of themselves.
The Warwickshire Inter Area Cross Country meeting will take place on 5th November at Stratford upon Avon School. We are keen to send as many participants as possible to represent North Leamington School, especially our keen runners and athletes belonging to local athletics clubs. Could those students wishing to represent North Leamington School in Cross Country, please make themselves aware to their Games teacher and collect a letter from the PE office.
Prior experience of cross country is helpful but not essential.
Mr Butler – Y10 Football
With the Year 10 football trip to Spain on the horizon, there continues to be excellent enthusiasm and passion from Year 10 boys to attend extra-curricular football club, with over 40 students attending the most recent club. Those who have attended recent after school clubs, and represented the school in fixtures against other schools, have conducted themselves in an exemplary fashion, showing outstanding effort, commitment and sportsmanship to each other and opposing teams.
Results
North Leamington 3 v 5 Henley - League
Kenilworth 3 v 2 North Leamington (AET) – Cup
Fixtures
North Leamington v Kenilworth (League) – 11.10.22
North Leamington v Aylesford (League) – 20.10.22
Myton v North Leamington (League) – 01.11.22
Mr Beese – Y9 Football
The Year 9 boys football team have made a sound start to the new football season. The reigning district cup champions came through a hard-fought contest vs Aylesford school, securing a narrow 1-0 win and their place in the 2nd round of the district cup. The team will meet Southam school on 19th October to play for a semi-final place. This was followed by a 3-0 defeat vs a strong Kenilworth school where the team were punished for failing to take any of the host of chances they created in the first half. A better performance followed at home to Myton, with the boys racing into a 3-0 lead. The team were pegged back to 3-2 early in the second half but rallied to run out deserved 4-2 winners.
Upcoming Fixtures
Kineton vs NLS (Wed 12 October)
Stratford vs NLS (Tues 18 October)
NLS vs Southam (Wed 19 October)
Mr Sarwar – Y8 Football
Year 8 football club is a great opportunity for students of all abilities to come and participate. There is a brilliant atmosphere every week, with an amazing group of pupils.
Upcoming Fixtures
NLS vs Campion 11th October
NLS v Southam 19th October
Mr Guilfoyle – Y7 Football
With a great turn out to training the Year 7s have hit the ground running with two great wins totalling over 10 goals. With a great turnout to training this is a great club to come along and enjoy your football and potentially represent the school. We have plenty more upcoming league fixtures and cup matches so keep up the fantastic effort and hard work in training.
Mr Guilfoyle – Rugby Club
The NLS rugby club is a great club to come to in order to enjoy rugby as a sport and improve your skills. With a great potential of growth we can look at arranging games against local schools in the Warwickshire area when we have more pupils, which will come when we cover rugby in games lessons.
Mr Beese – Duke of Edinburgh
Year 9 – Bronze
Applications are open for participants wishing to do their Bronze DofE this academic year. Letters of application are available for collection outside the PE office, and must be returned in full to Mr Beese in the PE office no later than Friday 14 October. Late application will not be accepted, and pupils & parents/carers are reminded this is a 6month extracurricular commitment, which will include training nights, and offsite activities at additional cost.
Year 10 – Silver
Applications are now closed for those wishing to complete their Silver DofE. Parent/carers will be notified via group call if their child has been successful in gaining a place on the programme and the £50.00 registration fee will be made available to pay via ParentPay. Registration fee payment is essential prior to any pupil being registered with the DofE to complete their Silver award.
Miss Davis – Dance
We have a couple of Dance opportunities that take place after school in our dance studio. On a Thursday from 3:30-4:30pm, there is a Year 7 and Year 8 Dance club. This involves learning new styles and routines every week and students who regularly attend this dance club will be considered for a performance piece in our annual Dance Recital. We also have a Year 9, Year 10 and Year 11 BTEC rehearsal/intervention session where students who study Dance can use the dance studio to practice and rehearse pieces or work on technique. This runs from 3:30-4:30pm on Tuesdays.
Mr Piper – Hockey
Hockey club on a Wednesday has been increasing in popularity as the weeks progress. This club is open to all students of all ages from Year 7 – Year 13 and all abilities; no experience is needed! With a range of ages within the club, a great and inclusive atmosphere is created where students are able to learn from and support each other in developing their hockey skills. As the club continues to grow we are looking to organise both KS3 and KS4 fixtures against other local schools.