English Update Autumn 1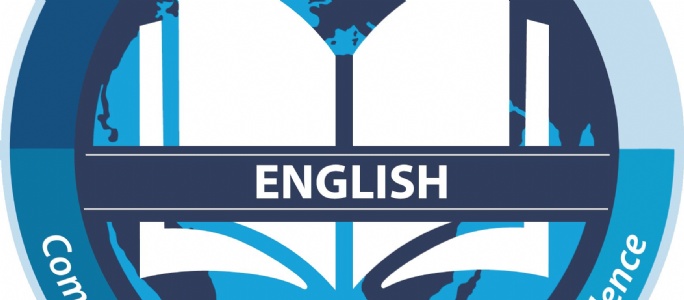 Staffing Changes in English
A new academic year has brought in a few new changes to the English department at North Leamington. The department is now under the leadership of Mrs Wright with Mrs Wilson leading KS3 and two of our new members of staff, Miss Williams (Leader for KS4) and Mr Barrett (Leader for KS5), making up the rest of the department's leadership team. The department is also joined by Miss O'Shaughnessy and Mr McMinn who are new to the school and Miss Fitzgerald who returns this year in a permanent role after establishing herself as a favourite amongst the students last year.
Summer Successes at GCSE and A Level
The hard work of last year's GCSE and A Level students and the dedication of the English Department staff yielded some incredible results during the summer examination series with 80% of our Year 11 students achieving a grade 5 or above in English – an increase of over 6% from 2021's results. Equally, praise should be given to our A Level Literature and Language and Literature students who, for many, achieved two and three grades higher than their expected progress. A huge congratulations goes to all of our students!
Student Uptake for Courses in Year 12
The department's reputation for success at A Level and the experience that our students had at KS4 has meant that we had excellent numbers of students vying for places on our A Level courses this year. We wish them all the very best of luck as they embark on the next stage of their academic careers with us at NLS English.
A Welcome to Our New Year 7s
Our newest students to the school have had an enjoyable but busy first half term. They have all undertaken baseline tests in reading and spelling, been inducted into the library, been tested on STAR reader so they now all have their reading ages and have been learning about Greek Mythology and the wonderful plethora of stories that have come from that genre. They have all worked really well and have demonstrated their enthusiasm for the subject in their books and their feedback.
Open Evening – Wednesday 28th September 2022
The English Department led the way on the school's annual open evening for prospective Year 7 students. There were games of Countdown, bookmarks to be made and a murder mystery to be solved. These were all facilitated by our current Year 7 students under the watchful eyes of Miss Fitzgerald and Miss O'Shaughnessy, who carefully prepared the night's activities and executed them with perfection on the evening. All of the English staff were also on hand to answer questions from parents and young people and show off the exemplars of student work and the texts we study at all key stages. The buzz that was created in the department was rightfully recognised by the school's Senior Leadership Team and the department were presented with a token of appreciation for their incredible efforts.
KS3 and KS4 Curriculum
Our students have been thoroughly enjoying their lessons in English this term with the Year 7s beginning their studies with us looking at Myths and Legends.
Our Year 8s have been studying 'The Edge' a gripping novel that deals with the trials and tribulations of the young Danny. After half-term they will move on to Dystopian fiction and look at this wonderful subgenre of science-fiction.
Year 9 students have been studying Stevenson's 'Dr Jekyll and Mr Hyde' a Gothic novel and a significant step towards undertaking GCSE level texts. After half-term they will build on some of the topical issues the text exposed and look at writing for a variety of recipients.
Year 10 have been studying Power and Conflict poetry in preparation for their GCSE English Literature exam in Year 11. Next half-term they will be looking at 'A Christmas Carol', another GCSE text for English Literature.
Year 11 have been working towards their first mock exam by practising questions for GCSE English Language Paper 1. We wish them all the best of luck in their mocks.
Year 11 Revision Sessions
In preparation for their mock exam in English record numbers of our Year 11 students attended a revision session on Tuesday 11th October and Tuesday 18th October. A special mention to Miss Williams for organising, and to the staff who ran the sessions. Students came away feeling much more confident about the tricky elements of the GCSE English Language Paper 1 and our staff thoroughly enjoyed their enthusiasm for wanting to improve. Following the half-term break, there will be revision sessions every Tuesday evening and these will each focus on a different aspect of the English Literature course to help students prepared for their English Literature mocks, which will take place in December. Please encourage your child to see their English teacher for more details.
Rewards in English
We LOVE recognising how amazing our students are in English and our young people may have noticed our Brag Board on the English corridor. Every half-term, the Class Act (class) with the most Reward Points will be awarded a prize (get your child to ask their teacher for more details). See the image below for how things currently stand. With the last two weeks' points still to be added it is all to play for – get earning those points!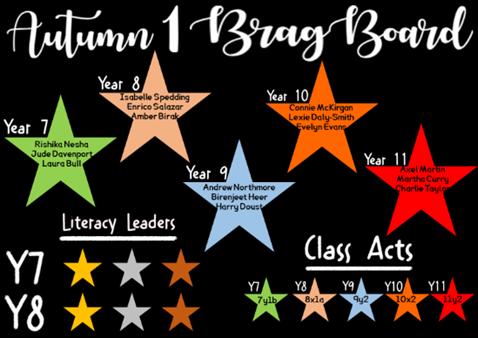 Celebrating Diversity and Equality in the English Department
Students have been showing their support for equality across this first half term. In their English lessons, all students from Years 7 – 11 have learnt their name in British Sign Language to celebrate International Day of Sign Languages. Many students were already well-informed and were able to sign much more.
We have also recognised Dyslexia Awareness Day with students empathising with their peers, devising supportive strategies and learning more about how those who have dyslexia may experience a lesson differently to them.
Students will be engaging with important events and discussions about Black History Month this October. Ask your young child about what they have learned this half term.
Sixth Form Open Evening in English
For any of you who are parents and carers for our Year 11s, please look out for our stall at the Sixth Form Open Evening on November 3rd. There will be interactive displays and staff and students on hand to talk about our A Level English Literature and English Language and Literature courses. We look forward to seeing you all there and learning where you journey in English could take you next!