English Department Update - Autumn 2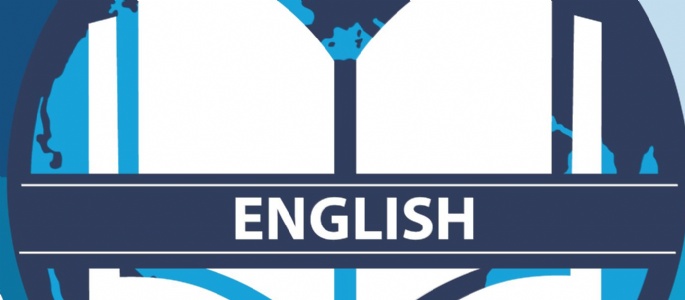 KS3 Update
In Year 7 students have been creatively responding to traditional Greek Mythical creatures as well as creating their own. Also, in the final week of this term students have participated in the International Schools Project where they will start designing their own spy character which will be sent to our partnership school in India.
Year 8 have turned their hands to non-fiction writing. Students have been writing letters, speeches in response to prejudice/ discrimination within our society. During Christmas week students had a taste of Media as they worked to create their own chocolate bar campaign/ pitch.
At the start of next term, Year 8 will be embarking their study of 'The Tempest'. To kick start this, students will take part in a workshop which will introduce them to the setting, characters and/or themes of the play. We hope that this will ignite their enthusiasm for one of Shakespeare's most magical and wondrous plays.
KS4 Update
Year 9 students have looked this term at Morality, analysing and writing non-fiction texts. Next half-term they start to look at Shakespeare's play 'Romeo and Juliet'.
In Year 10, pupils have studied A Christmas Carol this half-term and have continued to make a really pleasing effort to continue to develop their knowledge of the set GCSE texts. Students have developed their understanding of the assessment objectives. After Christmas students will begin to cover English Language paper 1. The writing component of paper 1 requires students to write a description or narrative. Students can begin to prepare for this by reading a range of fiction sources and working on learning some of those tricky spellings.
Year 11 have been working on revising and completing their English Literature mocks. This will give pupils an overall grade for English Literature and allow pupils to have a clear overview of what they are doing successfully and also further target areas of revision. It has been really encouraging to see so many pupils attend after-school revision sessions to further develop their knowledge of the texts. After Christmas Year 11 will be working on English Language paper 2.
KS5 Update
The department's reputation for success at A Level, and the experience that our students had at KS4, has meant that we had excellent numbers of students vying for places on our A Level courses this year. All students have begun their respective courses wonderfully well this term are already adapting to the demands and rigour of Level 3 study.
Our Year 13s this term year have undertaken their first mock exams and have a real taste of what their final exams will be like in the summer. There were some fantastic responses and many lessons learned for where the EBIs are for the summer.
Sixth Form Open Evening – Thursday 3rd November 2022
KS5 English was hugely popular at the Sixth Form Open Evening this term with many prospective Year 11s looking to study one of our A Level options: A Level English Literature or A Level English Language and Literature. We were strongly supported by some of our Year 12 students who explained and promoted both courses well to the many enquiring Year 11s. If any parents or students wish to know more about our A Level options, please email jbarrett@northleamington.co.uk.
Year 11 Revision Sessions
In preparation for their mock exams in English Literature record numbers of our Year 11 students have been attending revision sessions on Tuesdays. A special mention goes to Miss Williams for organising and to the staff who ran the sessions. Students came away feeling much more confident about the tricky elements of the GCSE English Literature course and our staff thoroughly enjoyed their enthusiasm for wanting to improve.
Rewards in English
We LOVE recognising how amazing our students are in English and our young people may have noticed our Brag Board on the English corridor. Every half-term, the Class Act (class) with the most Reward Points will be awarded a prize (ask your child to ask their teacher for more details). See the image below for how things currently stand. It is all to play for – get earning those points!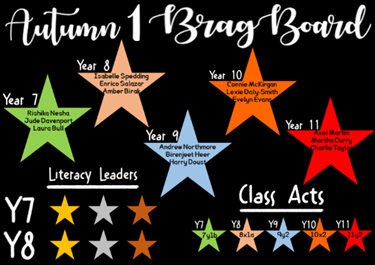 Celebrating Diversity and Equality in the English Department
Students have been showing their support for equality across this term. In their English lessons, all students from Years 7 – 11 learnt how to say their name in British Sign Language to celebrate International Day of Sign Languages. Many students were already well-informed and were able to sign much more.
We have also recognised Dyslexia Awareness Day with students empathising with their peers, devising supportive strategies and learning more about how those who have dyslexia may experience a lesson differently to them.
Students engaged with important events and discussions about Black History Month in October and last week, celebrated Human Rights Day in the English department. Students completed a speaking and listening activity where they had to engage with what they thought their human rights were, the history of the day and consider any of the texts we have studied in the curriculum that might highlight where basic rights are not always met. It was great to hear so animated discussions from our students!