Drama Update- Autumn 2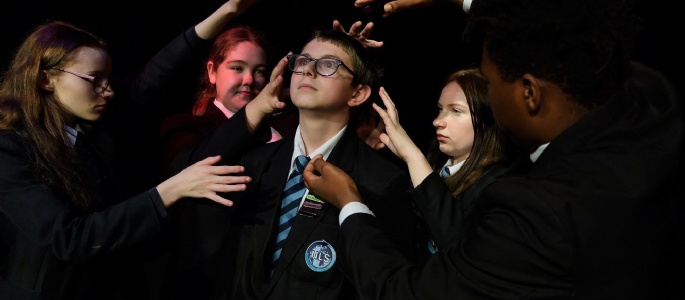 Year 7 & Y8 Drama
Students in KS3 are following a programme of learning that explores an introduction to Drama. As part of the course, they have established relationships within the group to create an effective group ensemble and complete activities that help them to build their confidence as a group and learn: How do we work well collaboratively? How do we use stage space? How do we use physicality? How do we use voice?
Year 7 students have explored a range of drama strategies from Still images, Thought-tracking and Transitions through to exploring Narration and Chorus work. Students explored the Greek Myth Oedipus and the Sphinx and they have also explored Genre and created a variety of interpretations of the Three Little Pigs.
Y8 Drama students have explored different approaches to creating devised performance work through spontaneous improvisation to script work. They have created their Pantomime performances inspired by Mischief Theatre.
Year 9 GCSE Drama
Students have been performing their devised performances that are based on The Island by Armin Greder. They have explored approaches to devising used by different practitioners including Frantic Assembly, Bertolt Brecht and Steve Berkoff.
Year 10 GCSE Drama
Students have been working towards a devised performance that is worth 40% of their final GCSE grade. Students work collaboratively in a group as a designer or performer to create a performance based on a stimulus of their own choosing. Topics chosen this year range from the story of Sarah Everard, The Pressure of Social Media, The Alice Ruggle Story, Sir Nicolas Winton, The Audrey Hepburn Story. Students will be performing in the Spring Term.
Year 10 Theatre Visit Blood Brothers Birmingham Hippodrome Thursday 4 November
On Thursday 4 November 2021 Year 10 Drama students had the opportunity to go on a theatre visit to watch the performance of 'Blood Brothers' at The Birmingham Hippodrome. This trip prepared students for their GCSE Component 3 Theatre Makers in Practice examination which is worth 40% of their GCSE. Written by Willy Russell, the legendary 'Blood Brothers' tells the captivating and moving tale of twins who, separated at birth, grow up on opposite sides of the tracks, only to meet again with fateful consequences.
Year 11 GCSE Drama
Students have been busy preparing for their Component 3 exam this term. There are two areas of focus::
1. Study of one complete performance text.
2. A live theatre evaluation.
Section A: The Crucible by Arthur Miller Students will practically explore a set text in order to be able to answer short and extended response questions. These questions will focus on decisions made as a performer, a director and a designer. An extract from the chosen set text will be provided in the exam paper. Students will have access to the text in school but you may wish to purchase a copy of the text to support your child with their learning beyond the classroom. The edition that the exam board will use in the examination is:
Arthur Miller The Crucible Methuen Student Edition ISBN 978-1-4081-0839-0
Revise Edexcel GCSE (9-1) Drama Revision Guide ISBN 9781292131986
Drama Revision Workbook ISBN 9781292131979
Section B Live Theatre Evaluation Y11 Drama students had the opportunity to watch a live theatre performance in school of 'Teechers' by John Godber on Friday 19 November. Watching this performance prepared students for their GCSE Component 3 Theatre Makers in Practice examination which is worth 40% of their GCSE. 'Teechers' is brought to the stage by highly acclaimed Blackeyed Theatre with high energy, break-neck comedy and breathtaking ensemble performances. This modern classic has challenging themes and commentary on current education. The piece is fast-moving, inventive and highly entertaining. Alternatively students have watched Jane Eyre by National Theatre which is part of the National Theatre Collection online.
In the Spring Term they will be rehearsing and performing their Component 2 Monologues/Duologues.
Enrichment in Drama
Year 7 Vibe Drama have been led by Year 9 Drama Leaders and Year 8 Vibe Drama Club have been led by Year 10 Drama Leaders. Both groups have participated in mask workshops and created short performances for the winter concert which has been postponed until the new year.
Drama Leaders and Arts Award
The Drama Leaders in Y9 and Y10 have done an amazing job of relaunching our extra-curricular programme. They will also have the opportunity to complete either the Bronze or Silver Arts Award. The Arts Award assesses how young people develop in their chosen arts activities rather than achievement of a specific skill level and it can earn a Level 1/Level 2 national qualification. Students will work independently to create their own portfolio about their interests and their progress with guidance from Mrs Hill and Ms Murphy. At Bronze and Silver level, young people take an active part in the arts as well as experiencing the arts as audience members. They create personal arts portfolios in the format of their choice to record their experiences, including research into an artist they admire and sharing their skills with others. They collect and record evidence of everything they do along the way.
Sixth Form Enrichment – Gold Arts Award
There are two Gold Arts Award units which contain distinct activities. Unit 1 is about personal arts development and unit 2 is about developing leadership skills in the arts. The Gold Arts Award is a Level 3 qualification on the QCF and worth 16 UCAS points. To pass unit 1 and unit 2 of the Gold Arts Award, young people are required to create an individual arts portfolio that demonstrates how they meet all of the following requirements:
The Gold Award Portfolio
The portfolio is a chance to show everyone what you did for your award and how you did it. You can choose the format for your portfolio and it doesn't need to be written – here are a few ideas but feel free to think of your own:
Video
Audio Diary
Cartoon Graphic Book
Website
Scrapbook
Photo Diary
Collect anything that shows the activities you have been involved in:
Tickets
Photos
Leaflets
Posters
Any notes or sketches
Emails, feedback or online discussions
Students work independently on their portfolios with the support of an Arts Award Advisor. Both Mrs Hill and Miss Murphy are qualified Arts Award Advisors.
Mrs Hill
Head of Performing Arts Faculty