Drama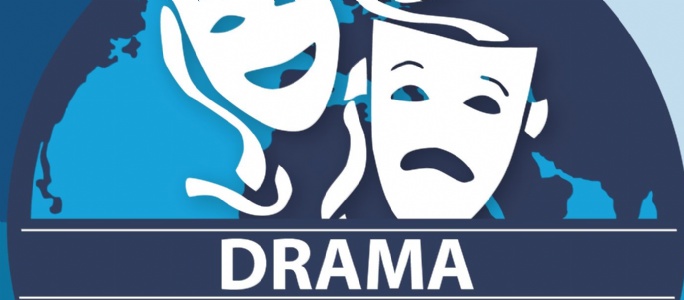 KS3 Drama
Year 7 Drama
Exploring Comedy
This unit of work focuses on collaboration skills and how to work well in a group. Students have explored the Elements of Comedy including stock characters from Commedia Dell Arte, Non-Verbal Communication, Slapstick and the use of Status through practical activities. Students have had the opportunity to create small performances in groups to build up their confidence using the elements of comedy to develop their storytelling. For the final performance students devised a comedy based on their chosen scenario and considered how they could interpret the characters through the performer skills and using elements of comedy to enhance the performance
Year 8 Drama
Exploring Text - Teechers
This unit of work focused on collaboration skills and how to work well in a group. Students explored John Godber's Elements of Comedy including stock characters, Non-Verbal Communication, Multi-Role, Direct Address and the use of Status through practical activities. Students had the opportunity to create small performances in groups to build up their confidence using the elements of comedy to develop their storytelling. The final performance allows students to explore an extract of the script and consider how they can interpret the characters through the performer skills and using elements of comedy to enhance the performance.

GCSE DRAMA – Year 9, Year 10 and Year 11
Year 9 Drama
Exploring Text in Performance
This unit of work focuses on the practical performance exam. Students are required to perform/realise a design for two key extracts from their chosen performance text following the group timings requirements.
A key extract is defined as a scene or a moment that is significant to the text as a whole and at least 10 minutes in length when performed. Each extract is assessed independently and it should be clear where each extract begins and ends. Students are not required to perform the same character or role in both key extracts.
Performers can choose
MONOLOGUE (2-3 minutes per extract)
DUOLOGUE (3-5 minutes per extract)
GROUP 3-4 (10-15 minutes per extract)
Designers are allocated a suitable group depending on their Design Choice (Costume, Set, Lighting or Sound)
Year 10 GCSE Drama students have been revising for their Progression Exam and explored their Section A set text An Inspector Calls by J B Priestley from a Performer, Director and Design perspective in order to prepare them for the written exam. They have also had the opportunity to practice some exam style questions.
An Inspector Calls by J B Priestley Heinemann ISBN 978-0-435232-82-5
Revise Edexcel GCSE (9-1) Drama Revision Guide ISBN 9781292131986
Drama Revision Workbook ISBN 9781292131979
Live Theatre Evaluation
Students have created a set of live theatre notes to help them with revision and in preparation for the exam. They have also had the opportunity to practice some exam style questions.
Y12 A-Level Drama & Theatre
Component 3 Theatre Makers REVISION
Section A Live Theatre Evaluation
This unit of work focuses on Section A of the written exam and is an opportunity to revise and improve their live theatre notes based on feedback from the Year 12 Progression Exam to help with revision.
Section B Colder than Here Laura Wade
This unit of work focuses on Section B of the written exam and is an opportunity to again help identify revision areas ased on feedback from the Year 12 Progression Exam. Students are given an extract from the play to answer TWO questions from the perspective of:
Performer (18 Mark)
Designer (18 Mark)
Lessons have explored the plot, characters and themes and focused on the Drama terminology needed in the written responses for both Performers and Designers. Students also explored the context of when the play and study practitioners such as Stanislavski and Laban to explore their ideas for the play.
Enrichment in Drama
VIBE Drama Club Tuesday after school 3.15-4.30pm (Drama Rooms C030 C034)
As an RSC Partnership School, the Drama Department organised a performance project with VIBE Drama club for the RSC Playmakers Regional Festival. The text we explored this year is a section from Macbeth by William Shakespeare.
Three witches tell the Scottish general Macbeth that he will be King of Scotland. Encouraged by his wife, Macbeth kills King Duncan, becomes the new king, and kills more people out of greed and paranoia. Civil war erupts to overthrow Macbeth, resulting in more tragedy.
VIBE created a performance based on a section from the play to showcase their talent. It was an excellent opportunity to experience live performance whilst developing an understanding of the drama strategies that they will have learnt throughout their Drama lessons. The group had the opportunity to work with a practitioner from the RSC for an afternoon in May. On Thursday 8 June the group performed at Sydenham Primary School in conjunction with other RSC Partnership Schools local secondary schools including Sydenham, Evergreen, St Anthony's, Clapham Terrace and Lighthorne Primary.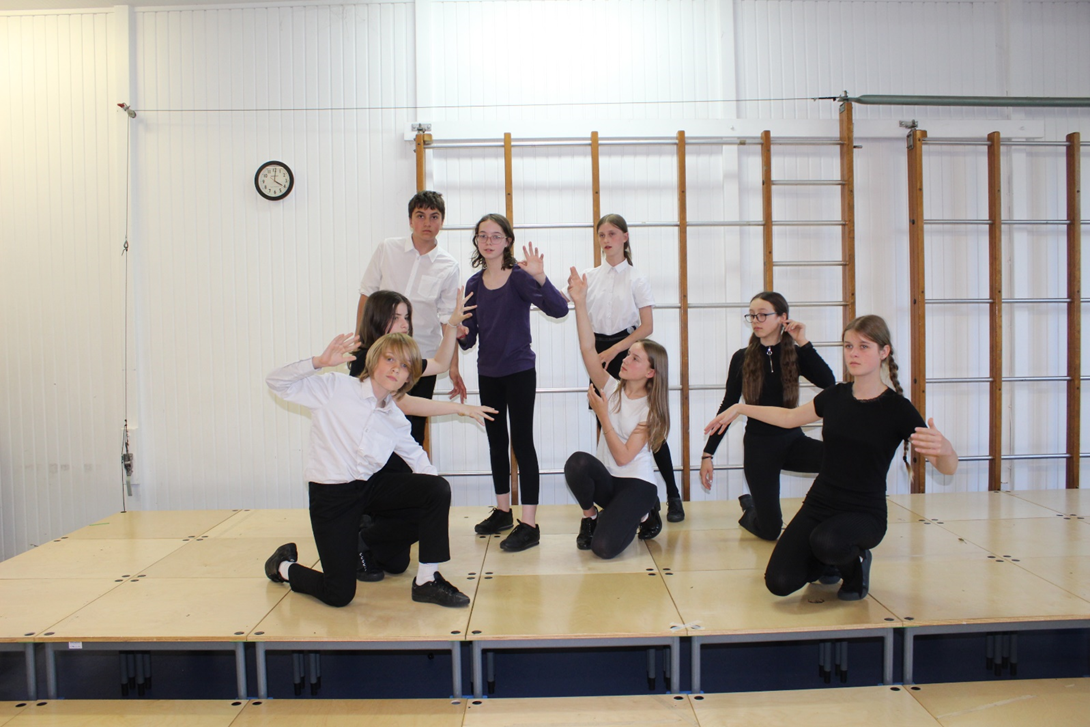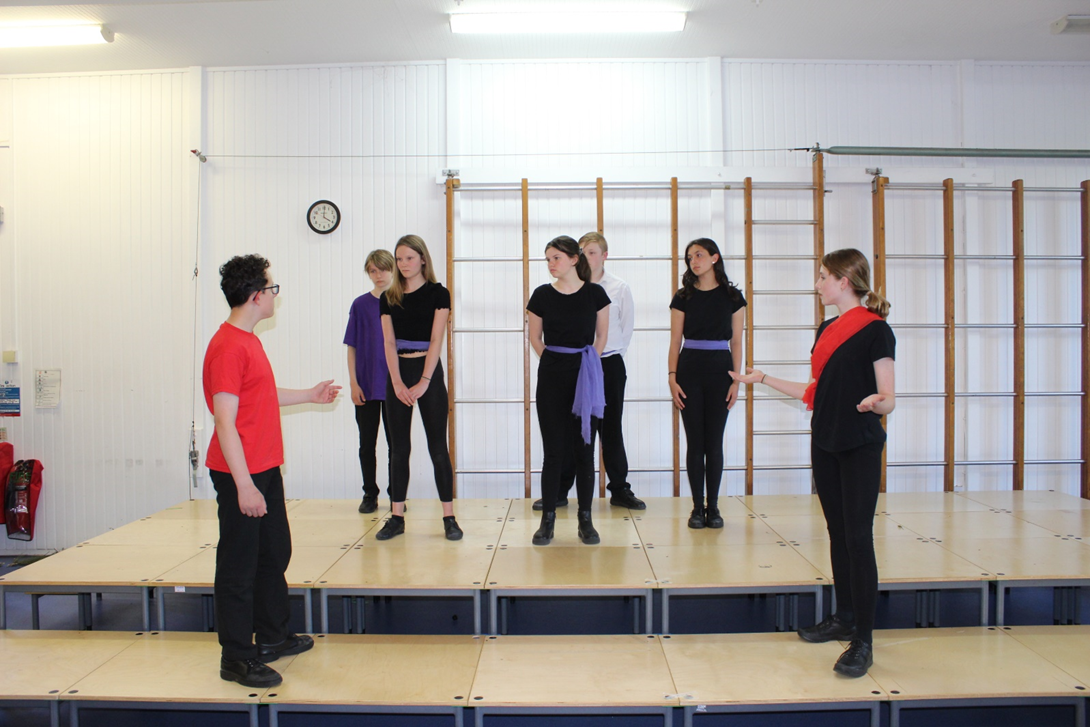 n school we also ran a competition for the best Macbeth poster. Here are our winners: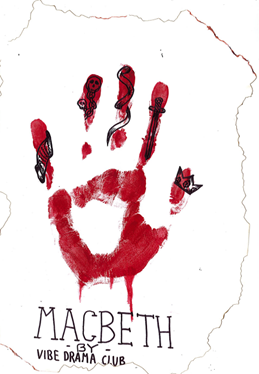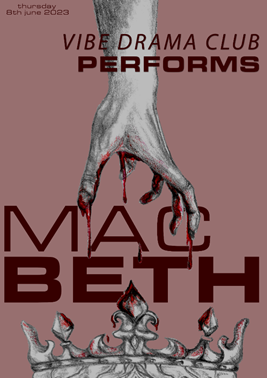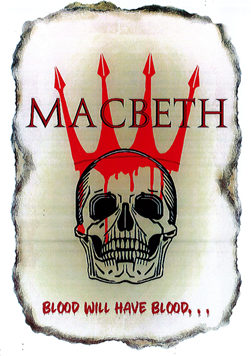 Royal Shakespeare Company Playmaking Festival 2023 - The Wood of Words
As an RSC Associate school Y7 Drama students had the opportunity to perform in the National Playmaking Festival on Monday 10th July and Tuesday 11th July. With seven distinct 'chapters', the play is inspired by what Shakespeare's words mean to young people and seven of the plays that would have been lost had the First Folio not been published in 1623. Each chapter is performed by pupils from different schools across the country and weaves together the play's newly written material with scenes from the seven plays. The NLS students worked alongside students from Sydenham Primary School and St Anthony's Primary School to create a performance 'Chapter 1: Banishment that featured moments from Shakepeare's As You Like It. The students performed exceptionally well. They had to chance to experience a professional dress rehearsal with director Chris White, a vocal skills warmup and were even praised by Maureen Beattie who is currently performing the role of Celia in the RSC production of As You Like It.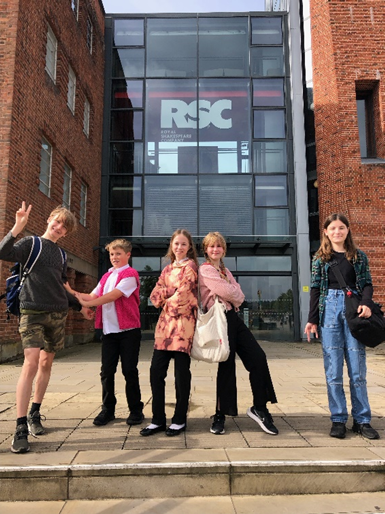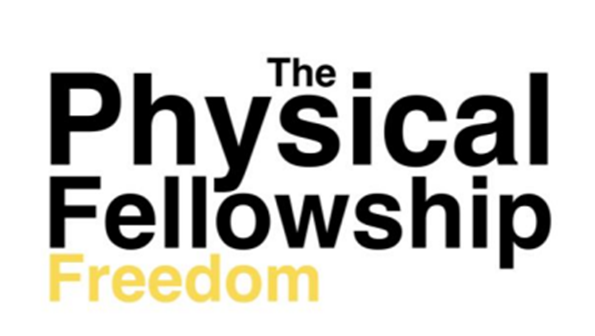 The Physical Fellowship Festival  challenges young performers to engage in an intensive devising process, over 2 artist residency days in school with Highly Sprung artists, to create a 20 minute piece of thought provoking and inspiring physical performance to showcase their talents as part of the festival week.
This year's festival's theme explored What does it mean to be truly free?
To have the liberty to make choices guided by your ambitions and dreams with no barriers or restrictions.
This year's festival is a tribute to the journeys to freedom defined by our pasts, presents and futures. Celebrating where freedom exists and throwing light where it is still absent.
Everyone deserves the right to be free but is all freedom equal?
In a response to explorations of human rights, identity and free speech this year's festival exposes the realities experienced in pursuing freedom.
On Wednesday 21 June and Thursday 22 June students spent the 2 days worked with a Highly Sprung Director, Emily, to create their performance piece.
The performers then spent a day at the Belgrade Theatre on Thursday 6 July where students were involved in all day workshops with professional theatre companies during the morning such as Fourth Monkey, Infuse Dance and ZooNation. Students had a masterclass with Highly Sprung followed by a technical rehearsal in the afternoon followed by a dress rehearsal in preparation for a public performance in the main theatre of the Belgrade Theatre in Coventry, in conjunction with other local secondary schools and Highly Sprung Performance Company.