NLS Celebrates A Level Results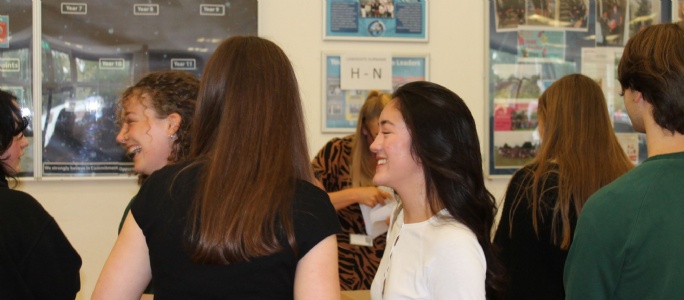 Congratulations to all students in Year 13 at North Leamington School who have yet again received outstanding results! Such results, which places the school in the very top percentiles for performance nationally, have been a trend in place for many years now. We are so proud of all our students - not only in what they have achieved academically but also how they have developed as terrific, well-rounded and caring individuals.
Our individual results highlights include:
Thomas Adams gained a place at Cambridge to study Natural Sciences

Abigail McComiskey gained a place at Bristol to study Maths

Erin Heeley gained a place at Lancaster to study Physics

Isabella Jenkin gained a place at Durham to study Law

Verdant Gore gained a place at Bristol to study Economics

Ellie Davey gained a place at Edinburgh to study Geography

Charlotte Manley gained a place at Warwick to study Psychology
Among an overall pass rate of 100%, 70% of all A-level results were at A*-B grade which is incredible and reflects the specific detail students learnt in order to achieve the top grades. National efforts have been made to return grading to the 2019 pre pandemic levels however, our students have produced a 7% increase in top grades of A*-B from 2019 - a fantastic achievement for individuals and testament to the hard work of so many. We had great success in BTEC subjects too - in Sport, Health & Social Care and Music. Of particular note is that 93% of the grades allocated were at either Distinction or Distinction*. We are delighted that Henry Fisher has been successful in securing a prestigious degree apprenticeship at JLR in addition to his A, B and Distinction* grades.
92% of students have achieved their preferred University choice at a range of organisations and geographical locations. Students will be studying courses including Medicine, Natural Sciences, Architecture, Product Design, Physiotherapy, Forensics, Law, Accounting & Finance, Graphic Design and Politics along with traditional subjects such as Maths, English, Sciences, History, Geography, Computing and Business. We will see our students once again travel to all parts of the UK studying at universities such as Birmingham, Bristol, Cambridge, Cardiff, Durham, Edinburgh, Exeter, Loughborough, Manchester, Newcastle, Nottingham and Warwick to name a few.
These students achieved a combination of purely A and A* grades:
A handful of other students are off on exciting adventures taking up employment or gap years. All of this testifies to a rich and diverse student community where individuals are so successful in pursuing their goals.
Irrespective of their next step destinations, all our students will be missed and we wish them every success in the future!