Student Leadership Update- Autumn 1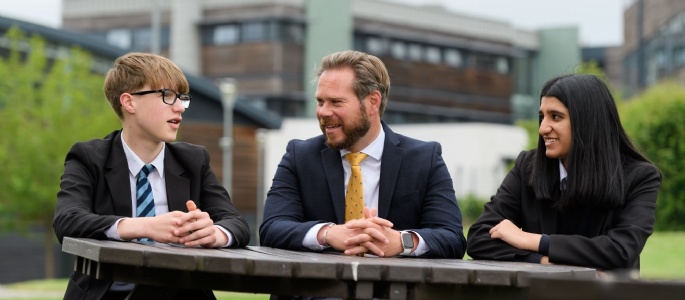 This half term has been a busy one in terms of Student Leadership and Voice as we re-establish roles now students are able to work outside of their year group bubbles. We have also completed our first round of student voice, giving every student in school the opportunity to influence the direction the school is heading in.
Student Leadership
Throughout the half-term, Year Leads have been involved in the application process for a range of student leadership positions in school (please see table below). Roles are generally specific to a year group but offer all students the opportunity to lead within their College and develop a range of leadership skills as they progress through the year groups. The sheer number and quality of applications this year has been absolutely fantastic and we really look forward to seeing what each student can bring to their specific roles throughout the year.
| | |
| --- | --- |
| Role | Year |
| Deputy College Leader- Leads on College wide activities and supports all students in the College with a range of activities throughout the Year | 11 |
| Vice Captains- Steps in for Deputy College Leader when they are unavailable and supports with College wide activities | 10 |
| Sports- Lead on all Sports Activities and ensure full teams for inter-college fixtures and sports day | 10 |
| Careers- Lead on student voice for careers activities and co-ordinate regularly with our careers advisor | 10 |
| Charity & Community- Take a lead on all College specific fund raising activities and community events | 9 |
| Marketing- Support with completion of termly newsletter, completion of College noticeboard and other e-marketing activities | 9 |
| Rewards- Lead on monitoring of reward points and celebration of student successes throughout the year | 8 |
| Ambassadors- Be the face of the school in whole school events (e.g. open evening) and take the lead in student and parent tours | 8 |
| International- Lead on all international projects and events and promote communication with our partner schools | 8 |
| ECO/ Gardening- Promote ECO activities throughout the school and lead on whole school ECO/gardening activities | 7 |
| Transition- Lead on all transition activities with prospective Year 6 students from local primary school | 7 |
| Year Group Council rep- Share student voice feedback with student cabinet and ensure opinions form all year groups are heard. | 2 per Year Group |
Mentoring
In addition to student leadership roles within their college, we have had a large number of students, from years 11 and 12, apply for a mentoring role. These mentors will support a range of younger students in school to help them deal with the day-to-day challenges they face. This has proved extremely successful in the past, as often students can provide practical advice and solutions, having been exposed to similar experiences in the recent past. Individual mentoring will begin after half term with a focus around two general strands: academic and pastoral.
Student Voice
We are also in the process of completing the first round of student voice for the year, this will be followed up in the spring and summer term in a similar way. All students have had the opportunity to feed into tutor group and subsequent year group councils. In the last week of half term, the student cabinet (including 2 representatives from each year group) will then meet to collate the feedback they have received. This feeds into a meeting with Mr Lowdell and our 2 Senior Student Leaders next half term, where actions will finalised and relevant change implemented. Topics discussed this half term included: Rewards and Celebration mechanisms in school, Extracurricular Activities, Home Learning and Post Covid Systems and Processes.
Throughout all of these activities, all students involved have behaved in an exemplary manner. It has been great to observe the passion and diversity of thinking within our student body and I look forward to sharing the positive change that the students have initiated as the year progresses.