NLS Students Sporting Successes
We are delighted to share a number of sporting successes our students have achieved this summer.
Firstly Jimmy Ward and Archie Lane have enjoyed great success in Athletics this season culminating in most recently both being selected to represent Warwickshire at the English Schools Athletics competition at Alexander Stadium last weekend ( on 30th June and 1st July. )
Jimmy achieved a new PB of 49.61 seconds, in his 400m heat on Friday coming 2nd and securing a place in the final on Saturday. He had an extremely tough final race where he finished in a very respectable 5th place. We are extremely proud of how well Jimmy has done this year, and we wish him all the best success in the future!
Archie ran a well-executed 1500m heat on Friday, securing a place in the final on Saturday with a comfortable time of 4 minutes 13 seconds. On Saturday he led the race from the front battling against head winds and very tough opposing athletes. Archie was successful in maintaining his place at the front throughout the whole race, securing himself the Gold medal with a time of 4 minutes 9 seconds.
We are extremely proud of Archie's athletics success this year and know he will continue to impress us with further PBs, county and national success. Well done Archie!
Both students were selected to represent Warwickshire at this event following representing Warwickshire Schools Athletics Association (WSAA) at the Mason Trophy Inter Counties Athletics Match held at Stoke on Trent on Saturday 17 June. At this event Jimmy won his 400m event with a PB time of 50.38 seconds! Jimmy also ran in the 4x100m mixed team relay which came first.
Archie won his 1500m event, beating his PB by 2 seconds and setting a new junior record for the Mason Trophy meeting. Archie also received the boys best performance trophy after he set a new 1500m record of 4:08.
A number of our students qualified for the Mason Trophy Athletics match this event after their fantastic performances at the Town Champs at Edmondscote in June
Our students that entered finished in the following places:
Tom I – 100m – 7th
Tom I – 200m – 6th
Jimmy W – 200m – 2nd
Jimmy W – 400m – 1st
Theo R – 100m Hurdles – 6th
Theo R – High Jump – 6th
Joe C – 100m – 6th
Archie DP– 200m – 6th
Archie L- 1500m – 1st
Archie DP – Shot Put – 4th
Martin S – Long Jump – 8th
Lily P – Long Jump – 6th
Elissa W – Discus – 5th
Following on from Archie's athletics and also cross country success this year he has been successful in achieving two further awards. He was awarded the Coronation Cup by Warwickshire County Athletics Committee for his outstanding performance at the County Championships in the 1500m race this year that was held at Nuneaton. Prior athletes that have been successful in winning this award include Olympians, Basil Healey, (Marathon 2nd), Dave Black (10,000m), Mike Rawson (800m) and Andy Hart (800m) along with many other GB and England International athletes.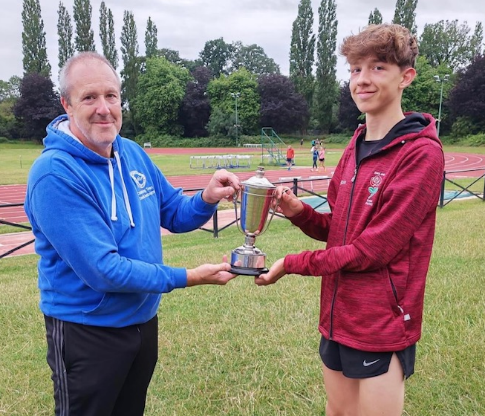 He has also been successful in winning the 'Outstanding Boy Athlete' at the Warwickshire Athletics Championships, highlighting all of his success this year. He will be presented with this award within the school celebration assemblies.
Year 7 & Year 8 County Champs Athletics Competition
Our Year 7 & Year 8 students have also enjoyed athletics success when they participated in the County Championships at Edmondscote.on Tuesday 27th June. Students showed great resilience, sportsmanship and professionalism when competing in their events and behaved in an exemplary manor.
Results:
Y7 Boys – 1st Place
Y7 Girls – 6th
Y8 Boys – 1st
Y8 Girls – 7th
We are waiting to hear which of our students have progressed through to the next round at the County Champs and will update as soon as we know.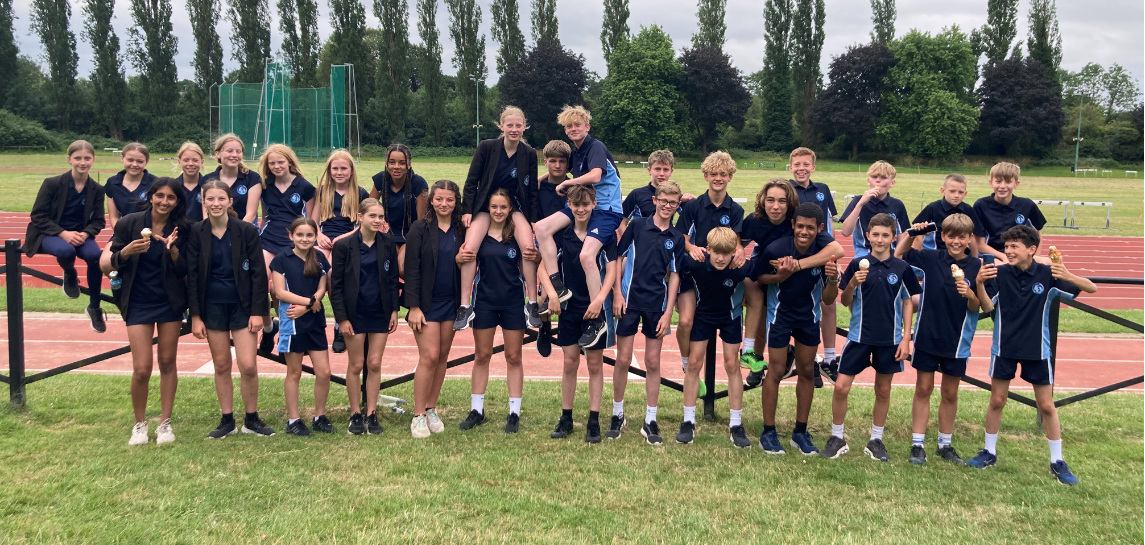 U14 Girls Football County Success
Finally, we are absolutely delighted that two of our students Esme Blake (Y7) and Paulina Sielaczek (Y8) have been selected to represent Warwickshire in their U14 County Schools' Girls' Football team for the 2023-24 season. We have been informed that the selection process was really tough due to the high level of ability displayed at the trials however, they were extremely impressed with Esme and Paulina's attitude both on and off the pitch as well as their playing ability.
It is a great honour for them both to be able to represent their county and we wish them all the best and look forward to hearing of their success!