NLS awarded International School Award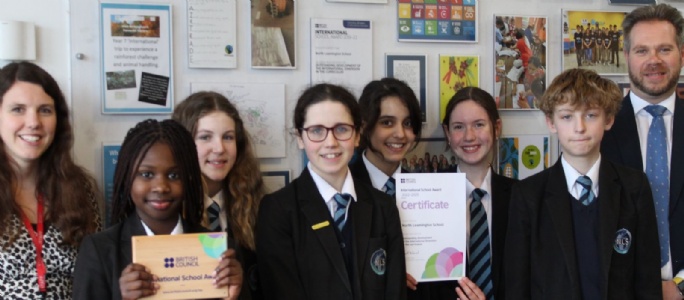 We are delighted that North Leamington School has once again been awarded the British Council's prestigious International School Award in recognition of our work to bring the world into the classroom.
Our International work has included collaborative activities with our partner school in Mumbai, India such as a project in History looking at perspectives of the British Empire, a project in Geography investigating how India is changing, a story writing collaboration, in English between students in the two schools. More widely, we look at global themes across the curriculum. Some examples are in Maths students' design a refugee camp, in Drama students look at themes of neglect and poverty and in Science, they investigate climate change.
As Head Teacher I am absolutely thrilled that North Leamington School has once again been accredited with the International Schools Award. The British Council award recognises our commitment to embedding international awareness and understanding through our curriculum delivery model. It is vital we help our young people understand the role we and others play in today's globally connected community. I would like to specifically thank Ruth Harding, our International Schools Co-ordinator and our student International Leaders who received the award on behalf of the school earlier this week at the Houses of Parliament.
Scott McDonald, Chief Executive of the British Council, said: 'The school has earned this prestigious award through its inspirational international work and links with schools abroad.
The International School Award is a chance for schools to be recognised for their important work bringing the world into their classrooms. This is especially commendable when schools have been deeply affected by the global pandemic. The desire to build on their international work shines through and it is with upmost pride that we celebrate their achievements.
By embedding an international dimension in children's education, these schools are preparing their students for successful lives in the UK or further afield, empowering them to be global citizens, and are creating vital opportunities in an increasingly global economy.
The International School Award encourages and supports schools to develop:
An international ethos embedded throughout the school

A whole school approach to international work

Collaborative curriculum-based work with a number of partner schools

Year-round international activity

Involvement of the wider community
Ruth Harding, was presented with the Award at a reception at the Houses of Parliament last week and our Student International Leaders, pictured above, were delighted to have the award in school this week where it will be displayed in our reception area.