Celebrating World Book Day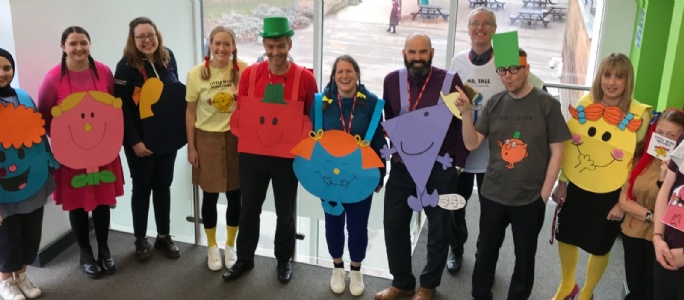 The school was buzzing with activity this World Book Day (March 2). This year, staff and students were determined to celebrate the books that they have grown up with and loved.
Staff and Sixth Form students across the school dressed up as their favourite literary characters with a prize going to the Maths Department for their wonderful take on Mr. Men and Little Miss. Among our winning Sixth Form students were fabulous takes on the courageous heroine Lyra from Phillip Pullman's 'His Dark Materials' and Eeyore from the classic A. A. Milne tale 'Winnie-the-Pooh'.
Across the day, students listed to video testimonials from staff who shared their favourite childhood books. Students were then given opportunities to discuss their favourite literacy characters and settings among other topics.
Some departments went the extra mile in embracing World Book Day with Mr Schofield from Maths tasking students to work out the surface area of the triangular Mr Rush the Mr Man. Elsewhere in Computer Science, Mr Challice and Mr Sycamore supported students using Python Code to ask the user to enter the name of their favourite character. Some students even managed to turn their coding challenge into a literary quiz.
Many staff also decorated their doors to represent the literary worlds of their favourite books. In History Bilbo's Hobbit Hole from 'The Hobbit' was recreated and reception was transformed into Hogwarts for the day.
Mrs Maiden will be ensuring that students across Years 7, 8 and 9 can access their World Book Day tokens digitally, students can access this through their emails.
We are already looking forward to the next World Book Day.
Happy reading everyone!