Head Teacher's Message
Dear Parents and Carers,
It has been another quick fire term, seven weeks have already passed since our return in the new year and again an awful lot has been accomplished by our young people. January and February in school, whilst full of new year promise and optimism is also a challenging term with the realisation for many senior students that this is the beginning of their final stages and for lower school students, the understanding of the effort required to keep developing subject knowledge and skills in this middle phase of the year. Congratulations to all students who continue to try their hardest each day in whatever year, that effort will always be rewarded and will stand you in good stead moving forward.
As we learn to live with Covid and respond accordingly to national guidance, it's important to note that we still are experiencing higher than normal student and staff absence. We are seeing normal winter related absence combined with the challenges of the pandemic, but I am thankful the school continues to remain fully open for all. Undoubtedly, most students will have experienced lessons that have been covered by another teacher due to staff absence or themselves have been absent. I ask that all students continue to work with their teachers to ensure any gaps in learning are addressed as we move forward.
I am pleased to announce that the school has been awarded the first level of the FairTrade Schools Award which means we have become a FairAware School. We join a worldwide movement – a movement where young people learn that, whatever their age, they have the power to make a difference in the world. It offers a great opportunity to look at global issues such as where our food comes from and how we are connected to people around the world linked closely to our international schools work.
Please do take time to read some exciting stories in this edition of the parent bulletin, Blackdown students have regained the college lead for one. A personal highlight this term was the opportunity to travel with a group of our Year 7s to Birmingham Botanical Gardens. Our students got a day out of school, learning in a different way, building what I hope will be such important relationships with peers and their tutor moving forward. Members of the public and staff at the Garden remarked on how polite and respectful our young people were whilst they were going about their visit, it was a great and different day working with our students.
Have a lovely half-term.
Mike Lowdell
Head Teacher
14 Feb 2022

All Year 7 Students had a wonderful time exploring the Birmingham Botanical Gardens last week. Year 7 students had the opportunity to hold a giant snail, a snake and a bearded dragon (amongst other things). They also worked in groups to complete a rainforest challenge, learning more about rainforest...
09 Feb 2022

Alex Clay in Year 9 was invited to perform on Zoe Ball's Radio 2 Show this morning (9 February ) as part of her Alternative Piano Room Month. Normally only celebrities get to showcase their piano skills live on the radio but this month, Zoe asked listeners to contact her if they could play...
10 Feb 2022

We are supporting LGBT+ History Month (February 2022) which is a month-long, annual, celebration and remembrance of lesbian, gay, bisexual and transgender history. It looks at the history of gay rights, which is also related to the civil rights movements. The main and overall aims of the month...
01 Feb 2022

Safeline, a registered charity that supports young people, are delivering parent workshops based around 3 topics that could affect your child/ren, these being:- Internet Safety Mental Health Bullying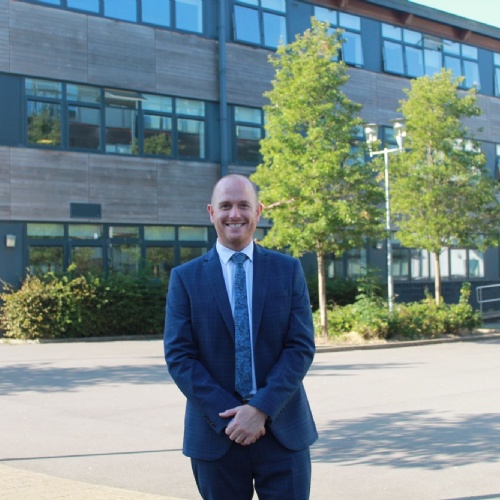 11 Feb 2022
We are going from strength to strength, with each student developing and employing the CORE ethos of the school. It is so pleasing to witness the majority of pupils being supportive, honest, having integrity, never giving up and most importantly, displaying enthusiasm. 'When you can be anythin...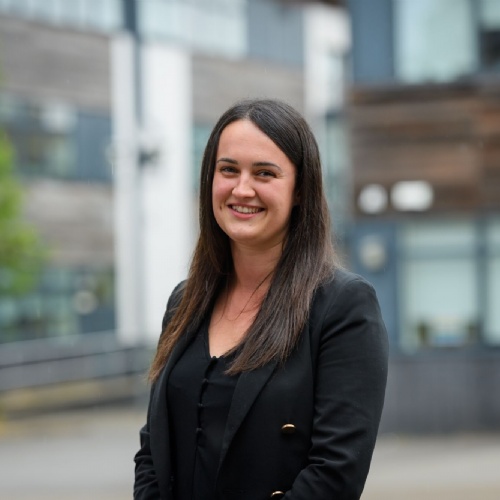 10 Feb 2022
Curriculum This half-term, students have been exploring Relationships and Sex Education (RSE). These sessions have included Healthy Relationships, Consent and Boundaries. The Year 8 team have been really pleased with the way in which students have responded to these sessions; students were inquis...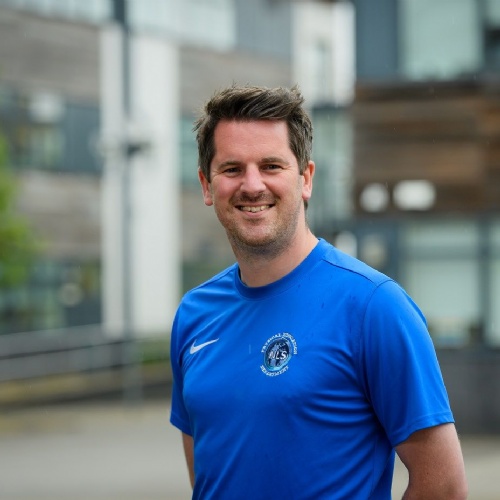 09 Feb 2022
Back in September, in our very first assembly of the year, I talked to Year 9 students about the importance of effort. I emphasised the importance of putting in hard work at the beginning of the GCSE course, and how this would give them the greatest chance of success as they approach their exams in...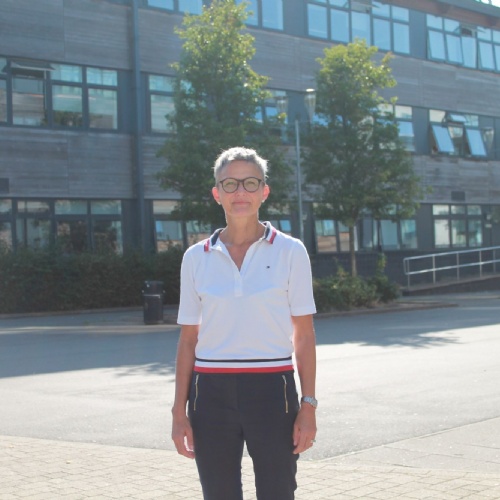 08 Feb 2022
The more effort you give, the more commitment you show, the more opportunities you'll make, the further you'll go. Tutor Curriculum Relationship and Sex Education This has been a compulsory part of the Tutor Time curriculum and has facilitated a greater understanding of a range...
07 Feb 2022
Year 11 students have once again had a really positive half-term. They are managing the challenges and pressures of upcoming exams extremely well but also continue to engage really positively with all aspects of school life. Alongside their ongoing academic curriculum, all year 11 students have b...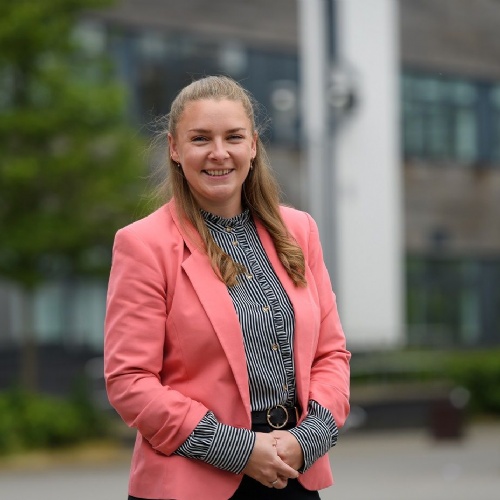 06 Feb 2022
I would like to start our first half of Spring term Sixth Form newsletter saying a huge well done to students for completing their mock exams. It can be a stressful time for students (and their families!) and I was proud to see the focus, determination and resilience our Sixth Formers showed. These...
Each week we update the points, tallying the week's leader. Congratulations to Blackdown for getting to half-term with a strong lead! Points are refreshed every new term.
01 Feb 2022

As we mark the halfway point of the academic year, it is good time to reflect upon just what a busy half-term it has been for the PE department and our sports stars. As the light returns and we emerge from the depths of winter, warmer weather is surely on the way. It has also been a time of reflecti...
01 Feb 2022

Year 7 & Year 8 Drama Students in KS3 are following a programme of learning that explores an introduction to Drama. Year 7 Drama students are currently exploring Northwood Hall and the House of Secrets. Year 8 Drama students are exploring the play DNA by Dennis Kelly and considering how...
01 Feb 2022

OneNote The Computer Science department have now become paperless! … Well, as much as we can be. All teaching and learning resources are now accessed using OneNote which can be used by students both in and out of school. Students can login to their class OneNote Notebook from home by...
01 Feb 2022

The students in the Art Department have been so busy this term producing amazing artwork and getting involved in some charitable projects. Find out about their achievements below.
01 Feb 2022

Year 7 Students continue to learn about Medieval Realms. They have produced some eye-catching doom paintings and narrative accounts of the murder of Thomas Becket. They are now evaluating different interpretations of King John, in preparation for their next assessment...
POFFS, POPS & POTIONS!
Bubble, blubber, squirm and gloop,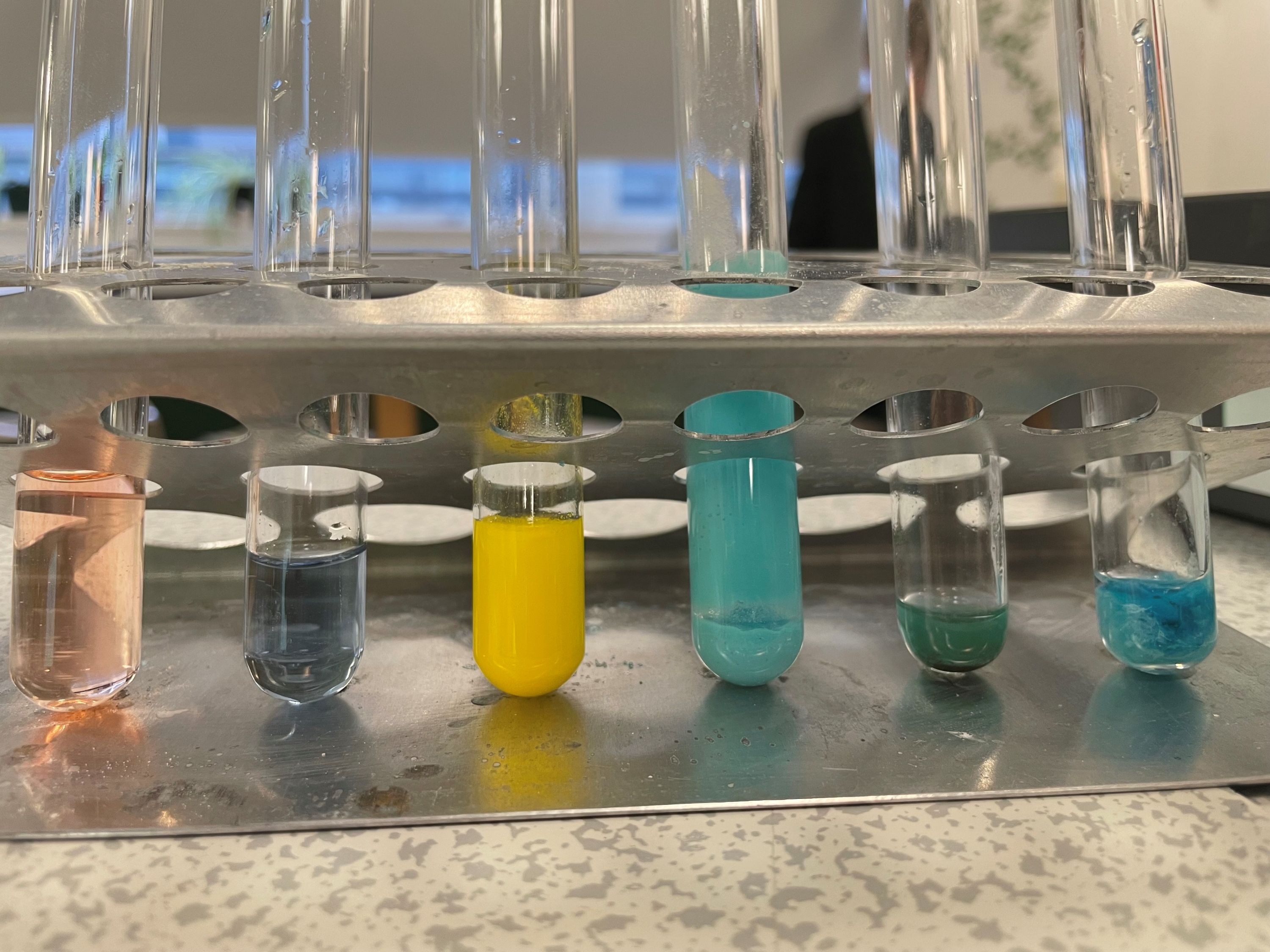 Boiling broth of bat's tail soup.
Wobble, slobber, liquid goo,
Add the sole of one old shoe.
Spooky shadows dance around,
Of frogs and rats and snarling hounds.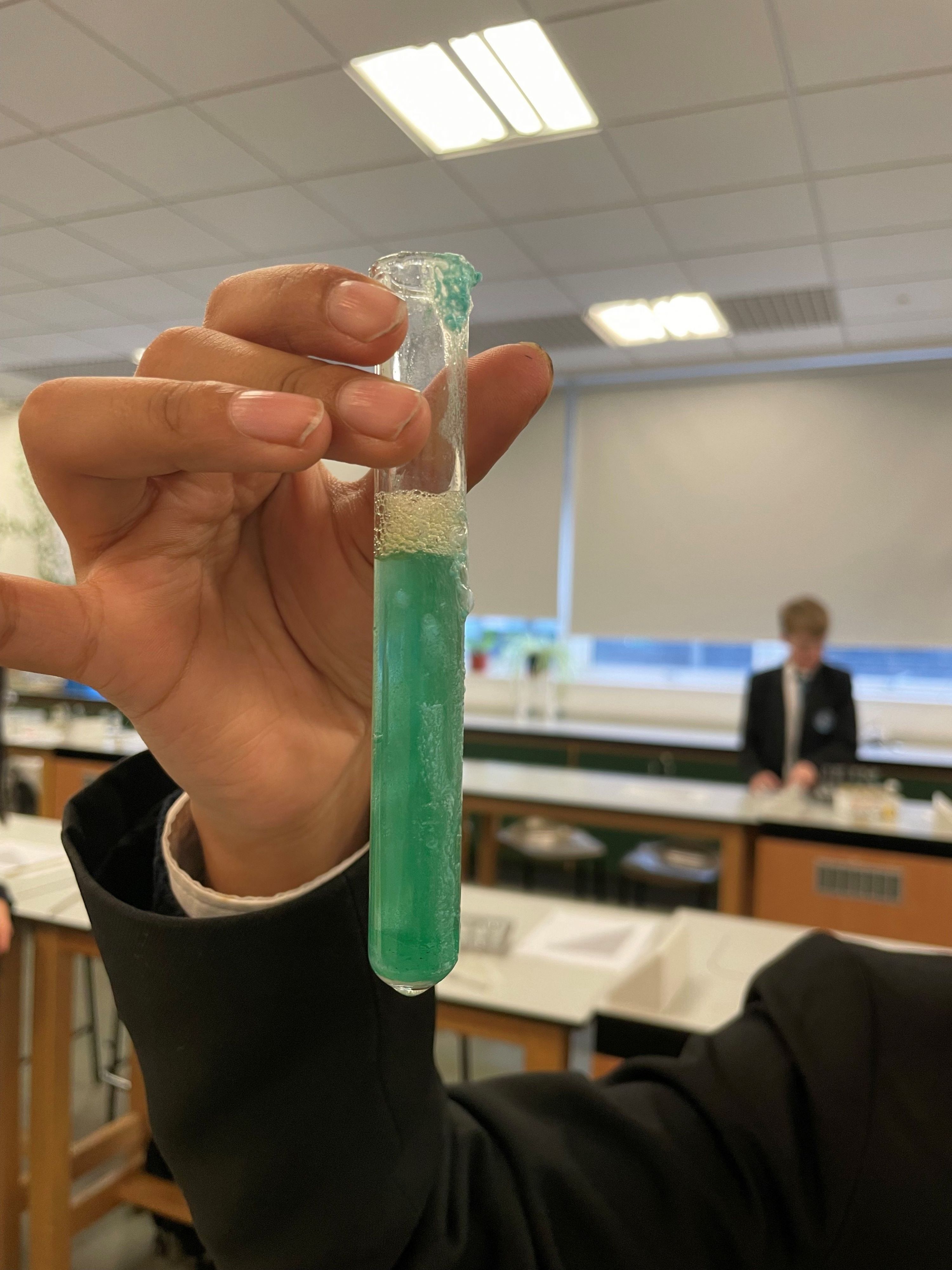 Steam swirls rising to the roof,
Add one small ear and one old tooth.
Gnarly, scratchy, tickle and itch,
Stir round and round to make it rich.
Mushy, sticky, sizzle and stew,
They're making mischief just for you!
Witches and wizards make potions (products) by mixing ingredients (reactants). Our amazing year 7 Scientists have been exploring chemical reactions this week in Science club. They didn't quite find the potion to turn humans into frogs but they observed exothermic and endothermic reactions.
Learning Support
In the Learning Support Room we support students from all age groups across the school. Students attend timetabled sessions and complete a huge variety of work, for example our Key stage 3 students may do memory training, literacy and numeracy support, typing skills, group skills and reading support. Our Key stage 4 students have a more curriculum-based focus.
Year 11 students (pictured) have been focussing on Maths and English in preparation for their exams, aided by our team of highly skilled Teaching Assistants. Their time in the LSR allows the TAs to pre-teach key vocabulary and for the students to revise and over-learn exam techniques and key information. A Year 11 student said "Being in the LSR is really enjoyable and very helpful. It helps with understanding the CORE subjects and understanding the work from the lessons".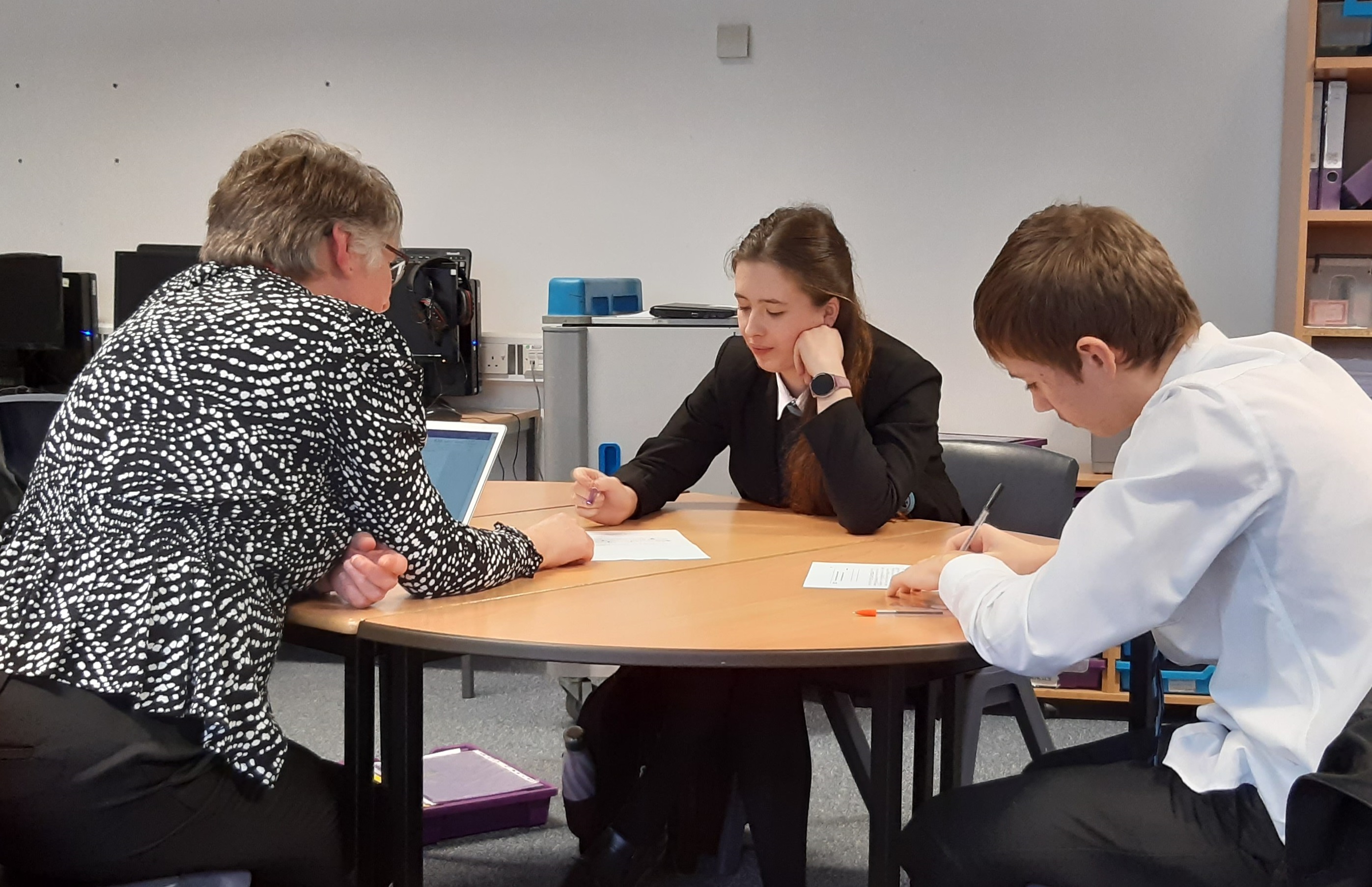 Art Students
View some incredible artwork from our Y8, Y9 and Y12 artists in our new online gallery .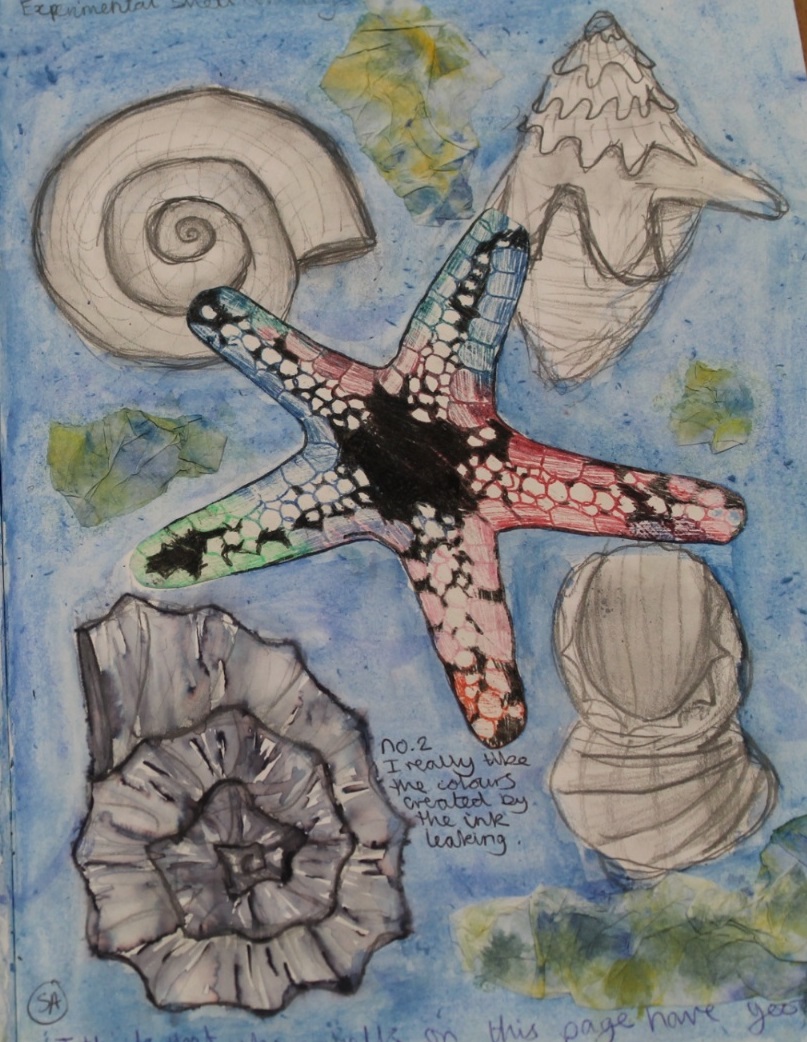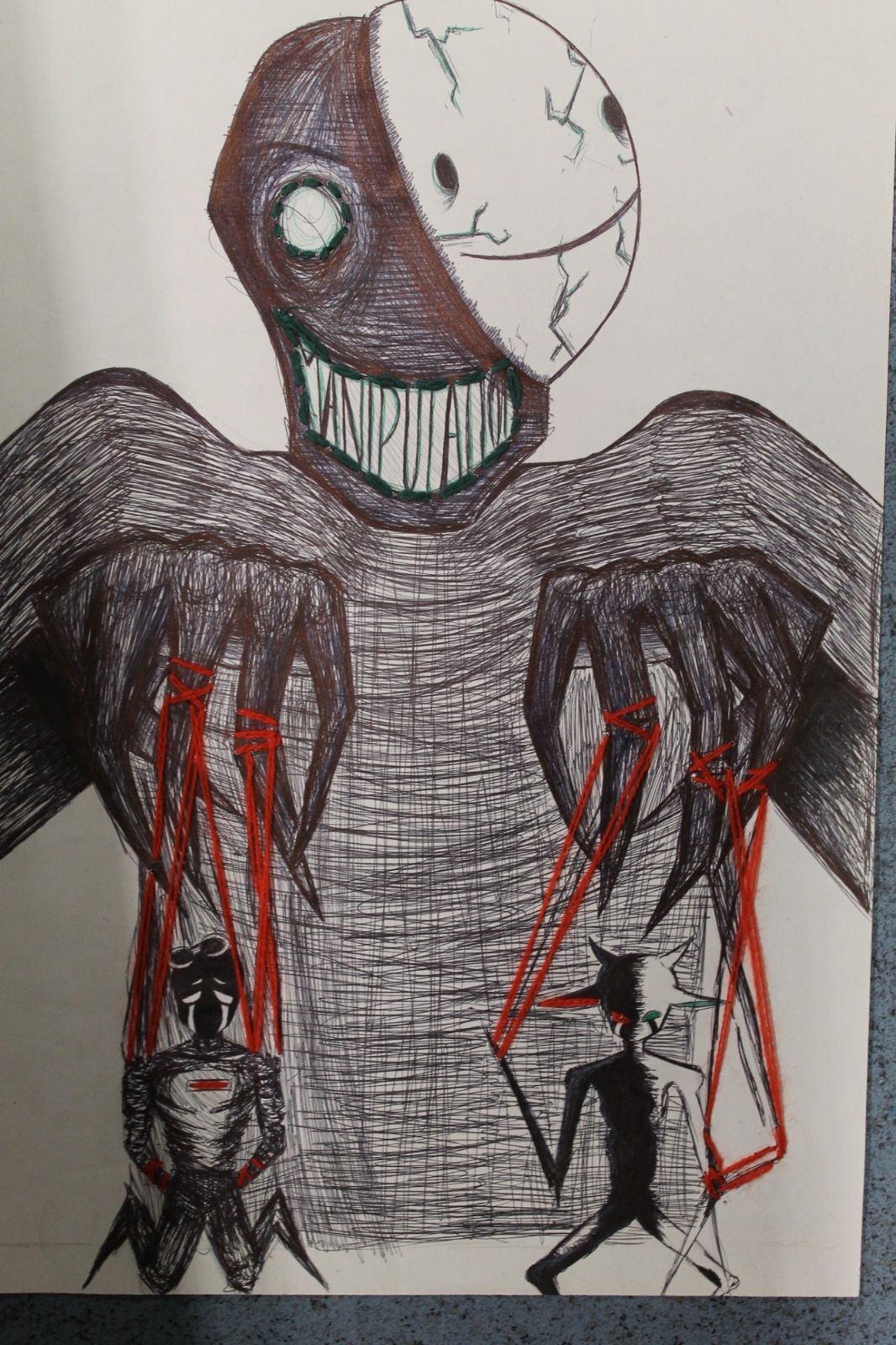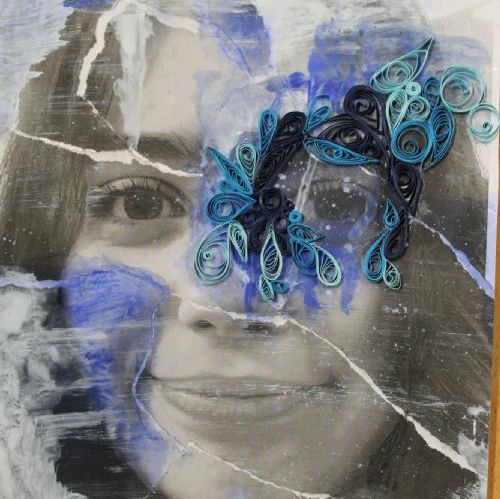 View more amazing artwork from all Art students in the Art update article
Competition news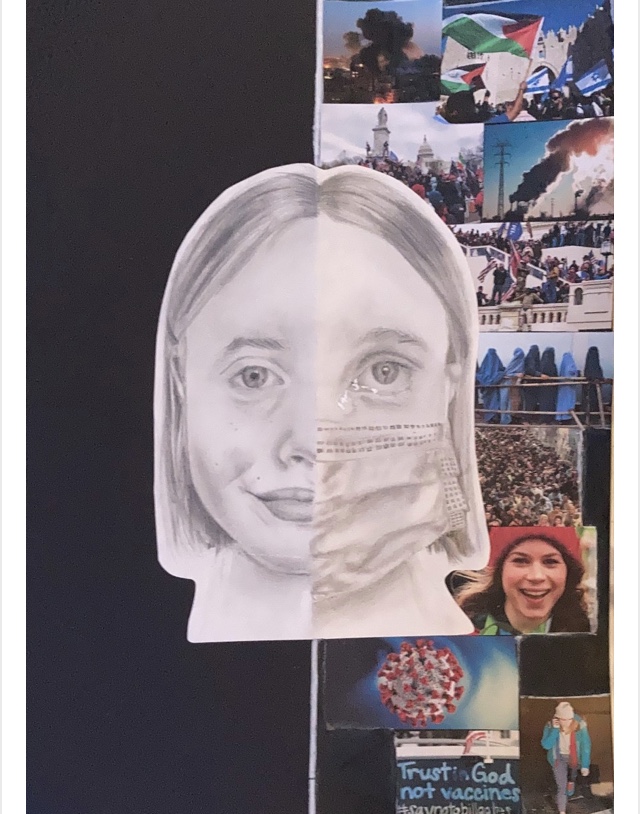 Congratulations to Kitty in year 8, whose fantastic artwork has been selected for a prestigious exhibition at Goldsmiths in London.
This is a fantastic achievement. Well done!
English
Charlie Jones in Year 9 was shortlisted for the 500 world Malala Yousafzai competition with his fantastic story "Don't Fall For Those Baby Blue Eyes". A huge congratulations for this amazing achievement!
Design Technology
The Year 7 and Year 8 students have been working hard to realise their design ideas in relation to their design challenge. Year 7 have been working on their challenge 'Meeting the needs and wants of teenagers' and have been producing door signs. The Year 7 design students have also been learning how to work with the materials timber and polymer, producing layered keyrings.
Year 8 have been working on their challenge 'Seeing in the dark'. The Year 8 design students have also been learning how to work with metal, producing jewellery pieces.
The Year 9 Design students have completed their first module of GCSE work. They have been designing in relation to the challenge 'A Safe and Comfortable Home'.
View the Y7-9 artwork in our gallery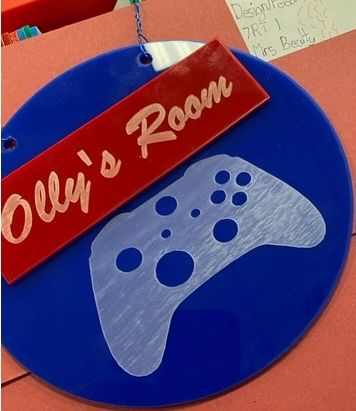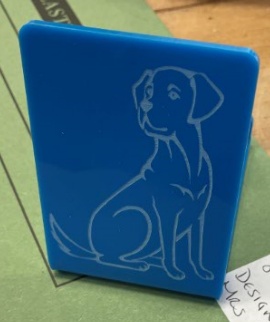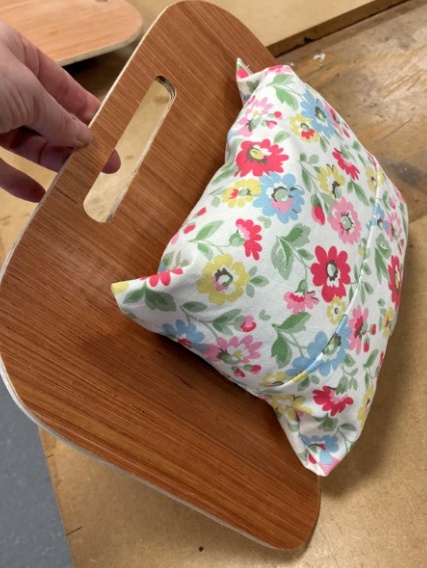 English as an Additional Language (EAL)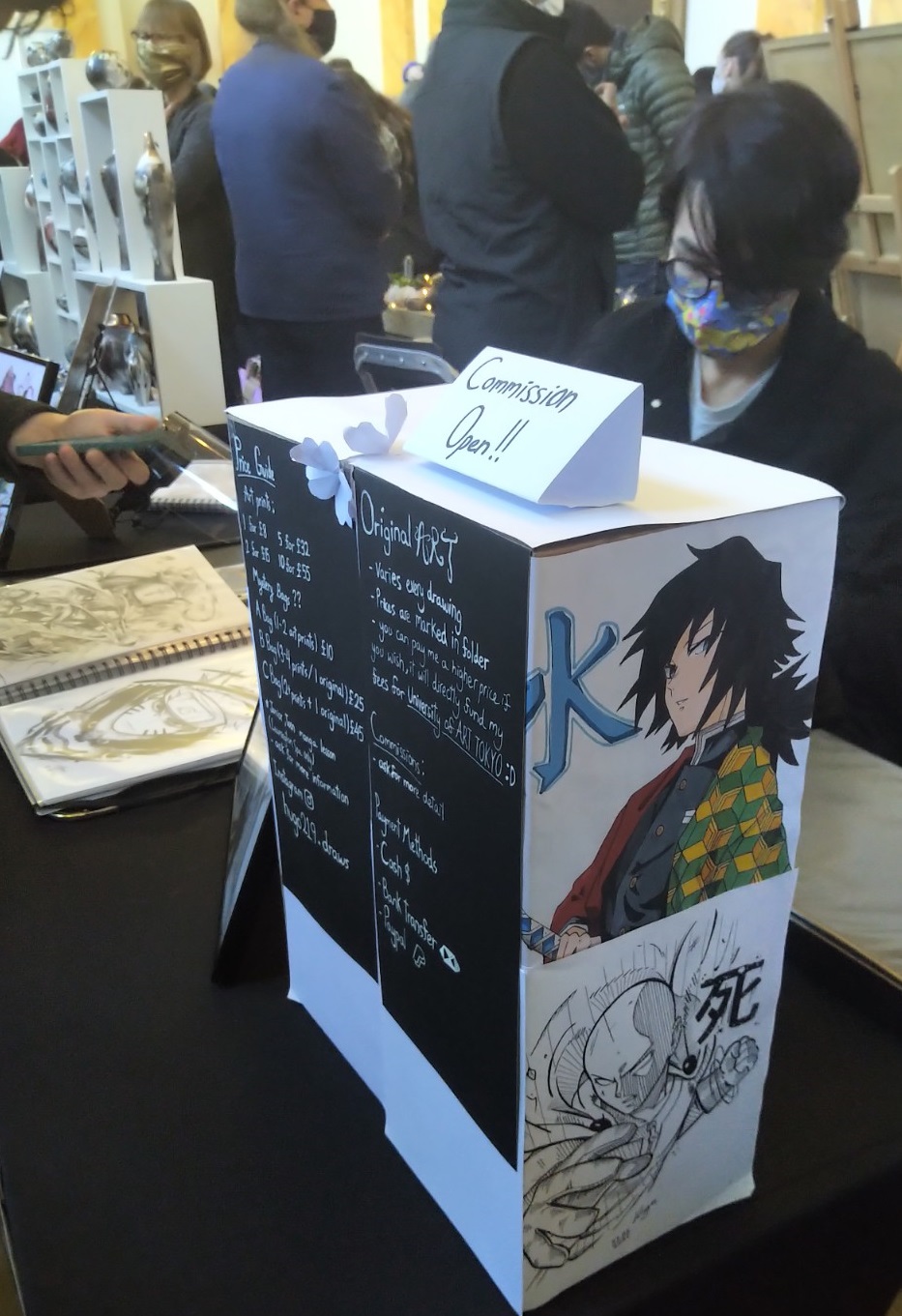 In recent EAL interventions, students have been improving their discussion skills, and written fantastic creative essays on topics such as 'Was Draco Malfoy evil?' (Tamar Holtzman, Yr 9) and 'Should cars shoot flames?' (Fabian Skoczyk, Yr 9). Special congratulations go to Hugo Pang (Yr 11) for his professionalism and success at the exhibition of his stunning manga art at the hugely popular Japan Festival. Around school, our students speak 25 languages between them – very impressive!
School Canteen Update
After half-term, the canteen will be offering a breakfast menu for all students from 8am- 8:45am, in addition to break and lunchtime. Please view the new breakfast menu and existing lunch menus with pricing here.
NLS vs climate change!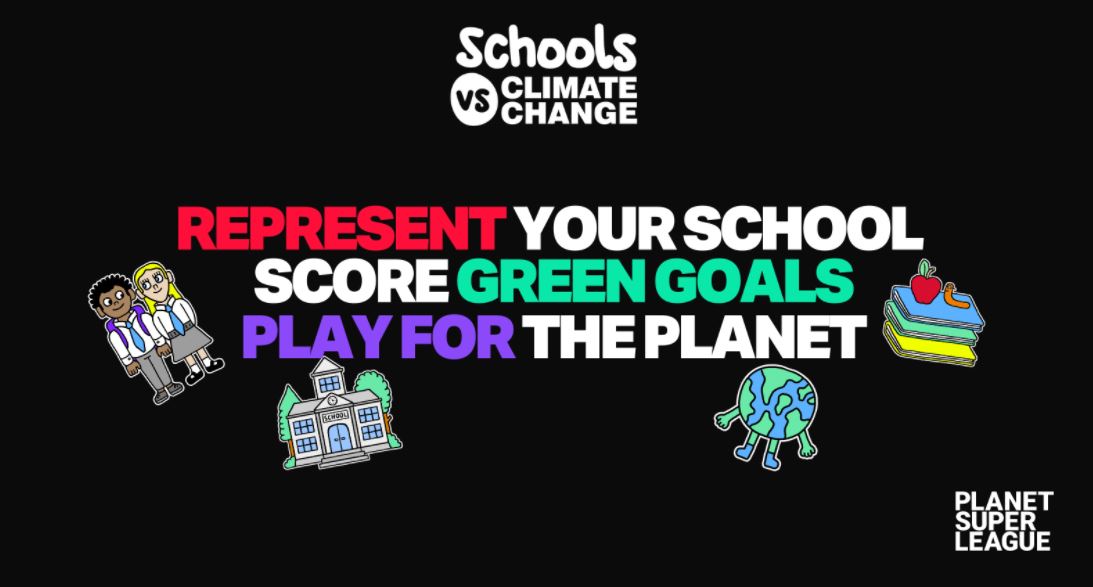 Do you want to support us in fighting against climate change? The CUP26 league is now underway where you can score goals by completing eco-friendly tasks and we are taking part! Although we are busy scoring as many goals as possible, we need YOUR help to score more! It's easy to do. Go to www.planetsuperleague.com create an account and link with North Leamington School. Anyone can join – not just students at North Leamington School.
Thank you so much for your support in looking after our planet!
The Year 7 eco-leaders
Vacancies
Are you or anyone you know, interested in joining our team at NLS? Here are some of our current vacancies. Please share with friends and family who might be interested.
Exam invigilators
Senior Caretaker
Teaching Assistant Level 1
Senior Science Technician/Science Technician
Find out more here
Celebrate the unsung hero in your school/college

Celebrate the hard work of your teachers by entering them for this year's Pearson National Teaching Awards, which are now open.

There are 15 award categories in total, covering primary, secondary and further education with awards for both individuals and whole school teams. This year also sees the introduction of the Unsung Hero Award, the only award also open to entries from parents, which recognises any member of school staff including those in supporting roles.

Televised by the BBC, the Awards can act as a morale boost for the whole community, with the entire school family able to get behind their nominee and celebrate what makes their school team so great. It's easy to enter, and it makes such a difference. Please get your entries in by 4 March 2022. To find out more about how to enter, see here. Please also watch the awards entry film
Safeguarding
The UK Government has launched a new advice and support site to help keep children safe from sexual abuse. The site includes advice for parents and carers on spotting the signs of sexual abuse and speaking to children about relationships and safety. It also signposts to sources of further support for children, adults and professionals including the NSPCC helpline and Childline.